Choosing the best gift for a two year old from among ride-on vehicles, construction toys, dolls and more can seem overwhelming, so we've narrowed it down to some favorites that our own boys and girls have loved. Because that first birthday party may get more hoopla, but we know the second is where you get to buy the really fun gifts for a toddler who is just getting ready to, well, toddle everywhere. And, possibly, remember your gift in the first place.
RIDE-ON TOYS FOR TWO YEAR OLDS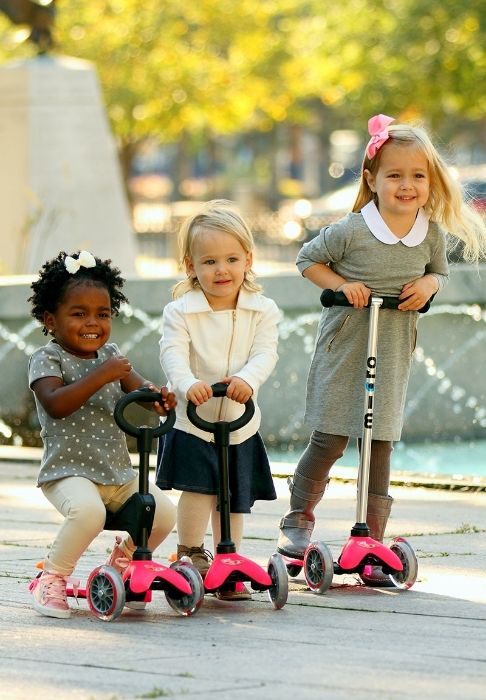 You probably don't have to worry about a two-year-old getting enough exercise, but the challenge is to give them the right toys to help them motor around the house or driveway safely. My favorite "wow" gift for years now has been a Mini Micro Scooter in one of their bright, fun colors like orange or neon green. If your toddler isn't quite ready to stand and scoot, check out their Mini Micro 3-in-1 Scooter (shown above) that grows with kids from a sit-down ride-on toy to a standard Micro Kickboard. It's a toy that will stay with them for a good, long time.
I'm not usually a big fan of licensed, cartoon-character-emblazoned ride-on toys but the Mobo Tot Disney Planes Dusty is cooly subtle in its blue-and-orange color combo. With a low profile, little kids will feel safe close to the ground, while the flag helps keep this cruiser in view.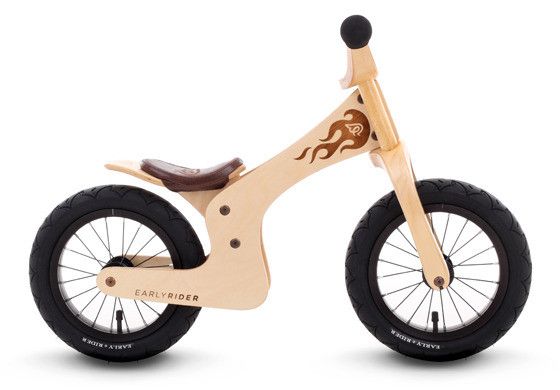 Moving from three to two wheels is a rite of passage for most older kids, but even those still in diapers can get in on the big kid action with a pint-sized balance bike. We're fans of the beautifully-made bikes from Tyke Rider (above) and the colorful G-Bike from Micro Kickboard. One huge balance bike benefit is that kids can often transition straight to a big kid bike without getting emotionally attached to those hard-to-quit training wheels.
BUILDING TOYS AND PUZZLES FOR TWO YEAR OLDS
Since most toys still go right to kids' mouths at the tender age of two, any construction toys I buy need to be too big to disappear and become a choking hazard. Rule of thumb: It should not fit into a toilet paper tube. That's why I've started all my kids on DUPLO's toddler-friendly toys–the perfect gateway toy for kids to discover the endless fun that is LEGO.  Some of Duplo's latest sets are so cute and colorful, like the summertime-themed Creative Ice Cream set.
Tiny Me's personalized wooden puzzles make a gorgeous, special, yet still affordable gift for a two year old. I love their new Name Block Puzzles which will have little ones learning how to spell their first name, or their beautifully designed Wooden Jigsaw Puzzles which come in more than 30 designs, each with their own color combos so you can pick something truly individualized. How nice not to be stuck with blue for boys or pink for girls.
Related: More of the coolest gifts for 2 year-old boys and girls
A good set of wooden blocks offers so many years of play, from just learning how to stack and knock down a few blocks at a time to building roads or castles across the entire living room for hours (if you're lucky) of imaginative play. Even our elementary aged kids still play with blocks like the maple-and-cherry wood blocks from Larsen Toy Lab.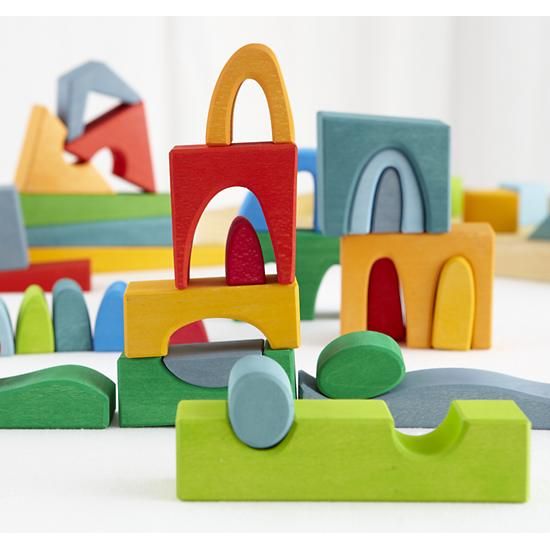 I also happen to love the gorgeously colored set of unusually shaped blocks from Grimms at Land of Nod – but keep an eye on those little pieces. You can always hold them aside for another year if need be.
IMAGINATIVE PLAY GIFTS FOR A TWO YEAR OLD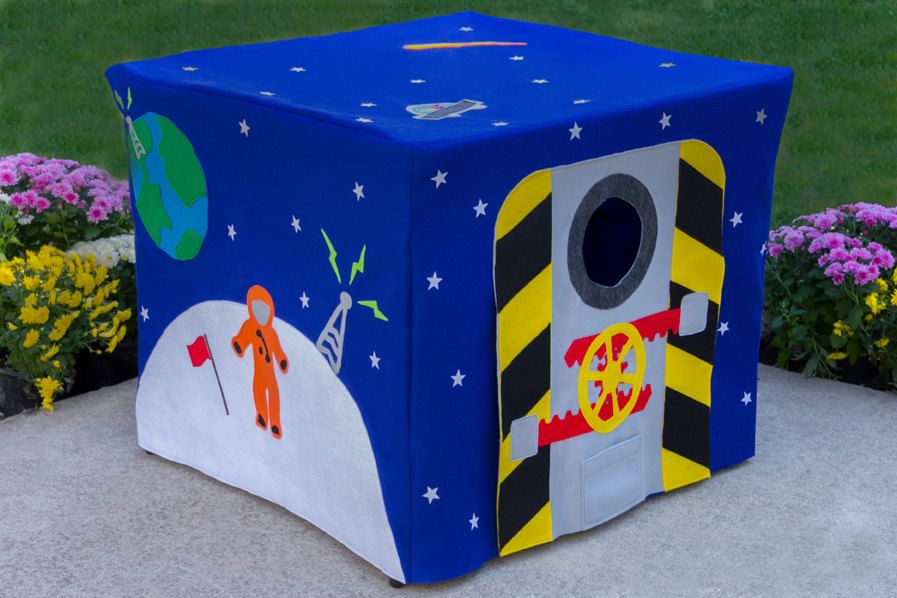 Miss Pretty Pretty's handmade felt playhouses would make any toddler squeal if it arrived in one of those specially wrapped birthday party boxes. I especially love that each one is so easy to set up over a standard card table and voila–your child can visit outer space, play under the sea, or just enter a bright country cottage. There's a reason she has one of the most popular kids' shops on Etsy.
Looking for a two-year-old sized play kitchen that won't take up too much space in your real kitchen? I love the look of Plan Toys' rubber wood kitchen which stands only 12-inches tall and can be propped up on a low sturdy table or set right on the floor. Toy pots can double as musical instruments, but if you have a two-year-old you already know that. And by all means, don't leave the boys out; our sons have always been huge fans of prepping play food and serving us cupcakes.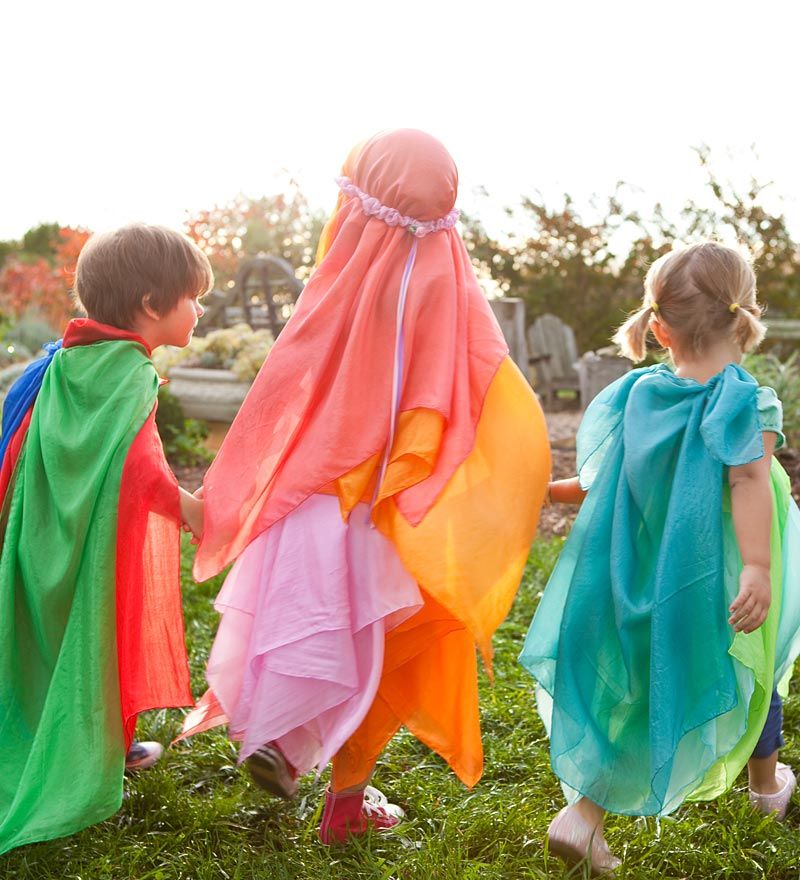 One of my favorite, longest-enduring playthings in our house is a set of soft, beautifully-colored play silks available in all different sizes and colors at Magic Cabin. Large ones can be draped over tables for quick forts, medium ones become Superman capes or are great for endless games of Peekaboo, and small ones become blankies for their many stuffed animals. This is a great two year old gift that will last for years.
OTHER SPECIAL TOYS FOR TWO YEAR OLDS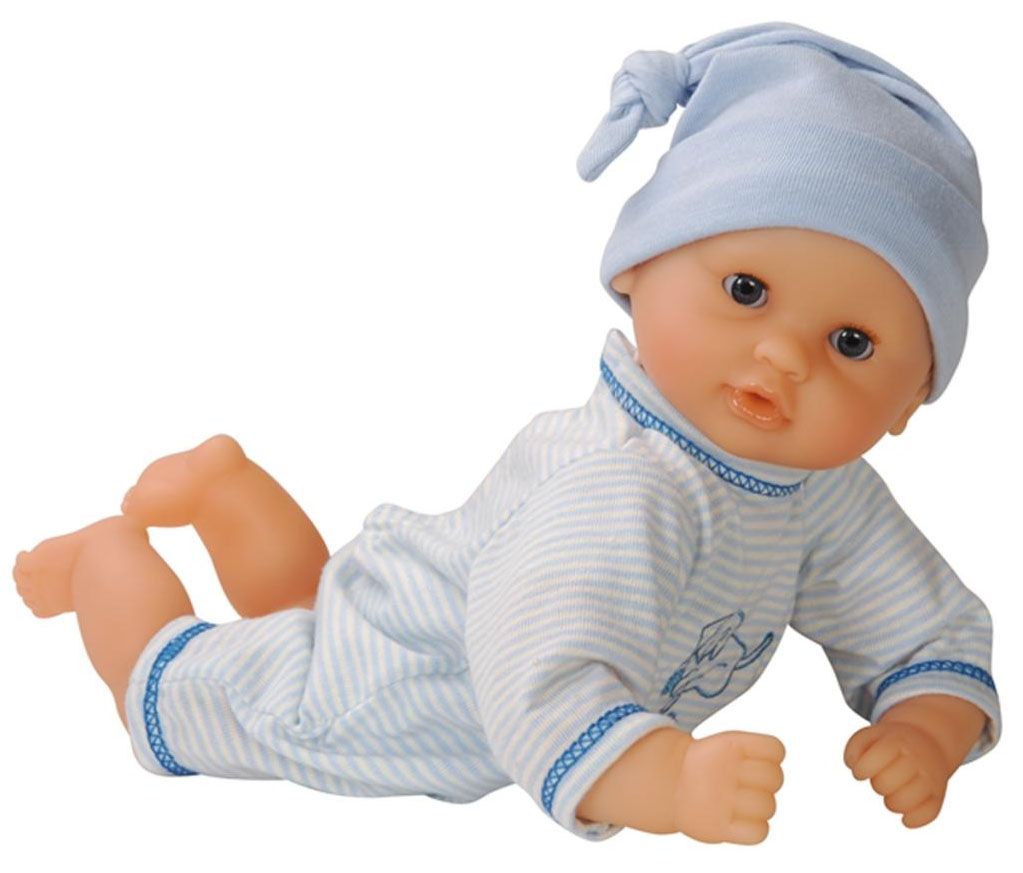 Corolle's vanilla-scented Mon Premier Baby Dolls come in both boy or girl dolls (yay for boy dolls!) and with a range of skin colors to appeal to all different kids, whatever their preference I am always impressed by how well made Corolle's dolls are, how well they hold up, and I adore the sweet expressions. Also take a look at their bath dolls which won't put up a fuss at bathtime and dry out quickly for playing the next day–unlike most things that kids end up dragging into the tub when you're not looking.
The organic, adorable, and non-shedding Scrappy Cats from Under the Nile make a perfect snuggle companion for a child in his or her new toddler bed. I love that these kitties are all different, since they are made from leftover cloth scraps, and don't even mind the water–they are machine washable and tumble-dry safe. And though the cute Scrappy Dogs have all been, erm, adopted, Under the Nile now has a line of Scrappy Elephants if your toddler's taste in lovies leans toward the more exotic.
Similarly, we've been longtime fans of Bla Bla Kids which makes fantastic fair trade animal and baby dolls that are so soft and quirky and cool, they"ll be loved for years.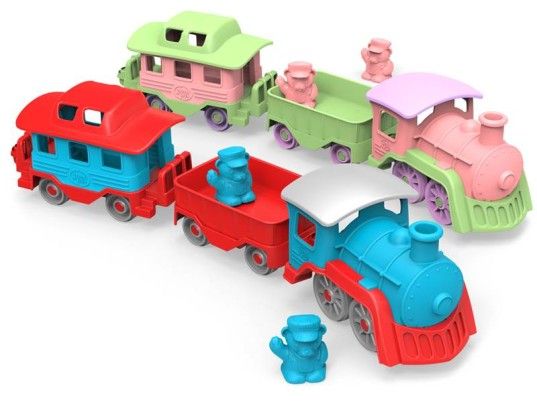 Green Toys makes some of the best "toys that go," and each one is made with 100% recycled plastic milk jugs to keep their environmental footprint as small as possible. I especially love the Green Toys Train with two conductor bears to take along indoors or out. But if bath time (or pool time) is the most fun time for your favorite two year old, their Seacopter and Seaplane love being both in and out of water.
BEDTIME STORIES AND BOOKS FOR TWO YEAR OLDS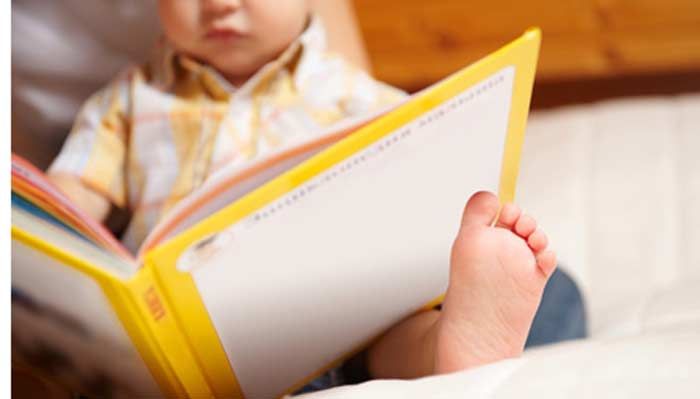 Last but definitely not least, some of my kids' most cherished gifts have been books that were given to them years before they could even read a word. Our archives are jammed with tons of wonderful books for kids, from board books to classics that will line their shelves into grade school. Another great idea: check out Just the Right Book gift subscriptions or the one-time book collections they can put together, tailored to whatever your two-year-old loves most.
For more fun gift ideas for 2-year olds (and kids up through tweens and big kids), check out our Ultimate Birthday Party Gift guide.