So we've officially hit last-minute Valentine's gift territory, which is something I know well. Whether you've been busy, stuck for ideas, watching a little too much Netflix, tight on budget, or, like me, spending all your time coming up with Valentine's gift ideas for readers of your website (ha) we can help!
We've got lots of last-minute gifts for Valentine's Day that you can still make, pick up or order in time, plus some drop-dead shipping deadlines from lots of stores who will keep FedEx in business this week. And lucky you: This year, Valentine's Day falls on a Sunday, which gives you (worst-case scenario) a little extra time to brave the crowds at the local chocolatier.
Take a look and see if this doesn't spark some ideas.
(This is an update of a post from 2015)
1. VALENTINE'S FLOWERS
Bouqs bouquet + awesome Emily McDowell card we featured in our roundup of funny Valentine's cards!
Don't scoff; there's hardly a woman I know who doesn't love the indulgence of fresh flowers, and I know quite a few men who love them too. The California collection of flowers from indie farm-fresh flower company The Bouqs can be delivered in time, and feature stunning options including mixed bouquets, orchids and roses, which is why we recommended them in our favorite romantic gifts for women under $50. Unlike the big floral delivery companies, these guys aren't contracting out with individual florists, so what you see online will not be wildly different from what you get delivered, plus they don't swap on you—if they're out of your selection, you'll know it.
Added perk: doubling your order is just $10 more. They can't deliver on Sunday unless you shop the Artisan Florist same-day option; however the Farm Direct orders can ship free overnight up to Friday, or for a $10 charge on Saturday.
Order by: Friday 2 PM ET.
2. THE PERFECT BOOKS
There's often nothing more romantic than a picked-just-for-you book—except for maybe some time to curl up and actually read it. You can always take a stroll to your local indie bookseller and see what looks just right for your Valentine. But if you can't spare the time, that's where Amazon is your friend, especially if you're a Prime member.
A few recommendations: For the love of your life, check out the fill-in-the-blank What I Love About You journal by Knock-Knock. If he's got a sense of humor, we're laughing at Book of Things Better than Boobs — just know that it's blank inside. For fun, there's the voyeuristic Other People's Love Letters: 150 Love Letters You Were Never Meant to See. Make the day of a true romantic with Pablo Neruda's Love Poems.  Graphic design fans will love The Book of Hearts. And I am smitten with All The Love in the World, for which photographer Jesse Hunter traveled the world capturing 800 hearts in 44 countries in a celebration of the universal symbol of love.
And of course, there's way more at Amazon beyond books. But we really like books.
Order by: Free same-day delivery at Amazon if you order before noon, on lots of products for Prime members in select metro areas (with $35 minimum). Also use the Amazon Prime Now app for deliverables in just a few hours. Order by Thursday for two-day shipping, Friday for one-day shipping (which may be free for Prime members). Audible or Kindle download purchases are immediate.
Be sure to double-check the delivery date, since some delivery areas do not include weekend delivery in their rush shipping dates! In which case, order by Thursday noon for one-day shipping to receive by Friday.
3. SUBSCRIPTION GIFT BOXES
We have so many ideas for the best subscription gift boxes, you can surely find the perfect one. Your recipient should be able to receive a notification via email that the box will ship soon—which is one step better than an IOU. So, what's their poison? There's Mistobox and Blue Bottle for coffee; Olive Box for fans of stationery and pretty things; Quarterly for the on-trend tastemaker; and of course the original Birchbox (his or hers) for the cosmetics junkie. Birchbox is even offering limited edition boxes, including a Groomed for Greatness box for men, and a pretty Charmed Life box for the ladies.
Order by: Any time for a notification, but the sooner the better—subscription boxes ship within 10 days, and in-stock items within two days. E-gift cards should be available for instant notification.
4. GOURMET FOOD GIFTS
The good thing about gourmet gifts is they often require overnight shipping to keep the food fresh. On Cool Mom Eats, Stacie has rounded up some of the very best food gifts for Valentine's Day that are more inventive than truffles. Not that there's anything wrong with truffles. Mouth.com has a ton of gift bags all with fun Valentine's themes.
Also check out Stacie's picks for the best food subscription boxes. From cookies to spices to gourmet tasting boxes, there is so much to choose from if you want to take that proverbial fastest way to the heart.
And if there's no time for ordering, we always love supporting our local chocolatiers and artisanal pastry shops. While we can never say no to a good macaron, our new favorite sugary obsession in NYC is Stick with Me Sweets which offers the most gorgeous bonbons in the most outrageous flavors. So worth a quick trip over to Mott Street!
If you're in chicago, hike over to Vosges—the rest of us would have to spend $39.95 for next business day shipping, or $49.95 for Saturday delivery. Yikes!
Or hey, wherever you live, hit a local gourmet store and put together your own combo of deliciousness that will hit the spot. Try a bunch of gourmet hot sauces; two ice cream spoons and a favorite gelato; or a little bag with three jars of different chocolate spreads. How you eat them is up to you.
Order by: Last-minute ship dates vary wildly! Just keep in mind that companies with two-day rush shipping may require you to order by Wednesday, since Saturday delivery is not included. Mouth.com offers a charge for expedited delivery for Friday, but they also offer same-day delivery in NYC only. Gourmet stores: Walk in any time. Boom.
Related: 7 easy, indulgent homemade chocolate treats for your Valentine

5. PRINTABLE ARTWORK
Etsy is of course full of lovely original art all ready for printing. You just add some nice paper, printer ink, and if you have time, a frame. I love this geometric printable heart artwork from The Motivated Type. Actually, I like a whole lot of stuff at this shop. You can search for terms like printable heart artwork, printable Valentine's art, or printable love quotes and surely something will feel right, whether it's serious or silly.
We also found a whole bunch of gorgeously designed inspirational quote artwork, should your partner be more smitten with your support of their dreams, ambitions or passions (that is, besides you).
Order by: Any time. It's printable. Though keep time differences in mind if the artist is not in yours.
6. LINGERIE…EVERY MONTH
Getting new lingerie every month seems like a luxury to us, especially when our shopping bags are more likely to see juice boxes than lacy underthings. So the idea of Underclub, a subscription lingerie gift service, is pretty awesome. Choose whether you prefer more "feminine and flirty," "bold and fun" or one of their other categories—or let your recipient pick for herself—and they'll send a pair of designer panties each month from the likes of Cosabella and Natori. As in, not the cheap trampy stuff. And yet it's still less than $25 a month.
Order by: Feb 15 for Underclub. Even though that's after Valentine's Day, that guarantees you'll get the next delivery at the end of the month. Maybe grab your own lacy something to go with a card as a teaser. So to speak.
7. KEEPSAKE JEWELRY AND ACCESSORIES
You're not going to get anything personalized at this point, but that doesn't mean you're out of fantastic options. Check your favorite department store for their drop-dead shipping delivery dates for Valentine's Day and you may luck out.
Tiffany for example (above), offers next-day delivery if you order before 3PM ET but it will cost you $30. (A drop in the bucket considering what you might be buying from there.) Saturday delivery makes things a little easy—just confirm your zip code is on board.
Nordstrom of course has tons of jewelry for Valentine's Day, great customer service and flexible shipping options. You'll find options in their guide for under $50… or you could totally splurge. It doesn't all have to be hearts or initials either; I could live with the Lagos Black Caviar bangle if you twisted my arm.
Order by:  3PM EST Wednesday for two-day business shipping; by Thursday for next-day business shipping; and order by Friday 3PM for Saturday delivery if you're desperate.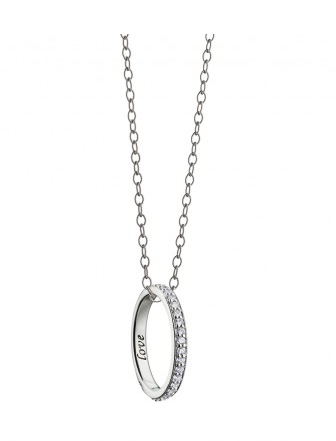 For something from a smaller artist, we suggest you visit local boutiques, museum shops, or a Saturday flea market that supports local artists. If you're looking to order online, we absolutely adore the splurgy but thoughtful Poesy Rings (above) we featured from MRK Style. You can still order them, along with lots of her other stunning keepsake jewelry, in time for Valentine's Day. With free shipping, no less.
Order by: Thursday Feb 11 for free express shipping on orders $250+. Express shipping deadline is Feb 11, 4PM EST
Oh and you think accessories are just for women? We don't know a fella who'd turn his nose up at a dandy new Apple Watch. (Not that it has to be the $10,000 version.) Or look into our recommendations for stylish fitness trackers for men—provided he doesn't take it the wrong way.
Order by: Wednesday for free two-day shipping from the Apple Store on all in-stock items. You may be able to pick up an item in-store if you need it faster. Or in certain markets, you can get guaranteed next-day shipping for Friday delivery; or courier delivery within two hours. Whoa.
Related: 15 romantic Valentine's gifts for her under 50: Valentine's Day Gift Guide
8. DINNER FOR TWO. YOUR PLACE. DRESS: OPTIONAL.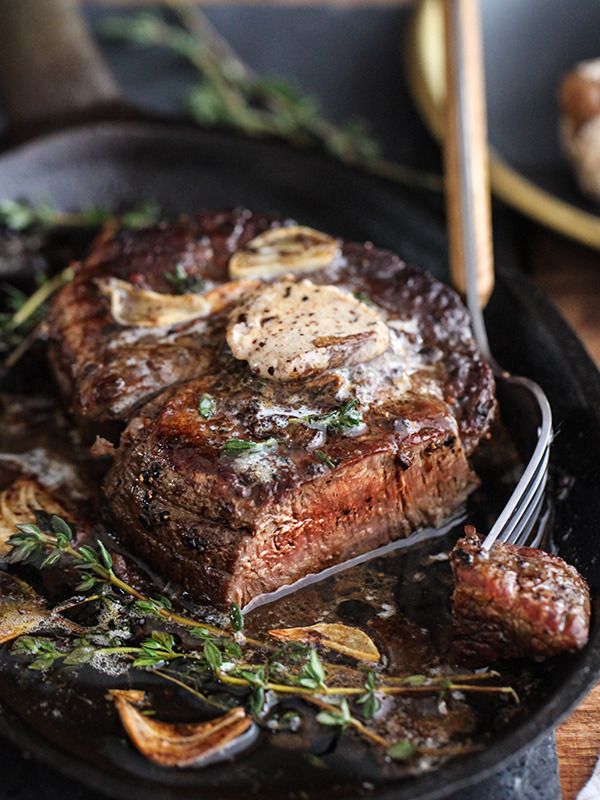 Of course if you cook, a home-cooked meal is a great gift. But if you don't? Even better.
There are so many ideas that can make the night special if you think a little. Maybe you whip up your sweetheart's favorite dish for the first time. Maybe you serve breakfast for dinner, just for fun. Maybe you get spicy with a Mexican dinner that isn't tacos.
Or go traditional and cook a perfect steak with these fantastic instructions. Heidi at FoodieCrush has incredible tips for making the Filet Mignon with Porcini Mushroom Compound Butter shown here that definitely gets me in the mood. There's just something so primal about red meat, I can't help it.
And hey, if you're stuck home with kids who aren't going anywhere, check out Stacie's ideas for 3 family Valentine's dinners that turn into romantic dinners for two later. Clever!
9. A GIFT CARD…WITH A CAVEAT
Tread carefully with gift cards, which may not send the intended Valentine's Day message, i.e. "I've thought long and hard about this because you mean so much to me." However if you're creative—say, a big Saks gift card for use in the lingerie department—you can score. Lots of gift cards can be delivered on the spot via email from the retailers we've mentioned here, from Tiffany to Nordstrom to the subscription box companies and gourmet food purveyors.
For the generous of heart, try a charity gift card from your Valentine's favorite charity or from Charity Choice (above) which lets you choose from more than 1,000 charities. The physical card ships next business day but you'll pay for overnight delivery. Instead, send as an ecard, or print out the gift certificate and paste it into a real card. Talk about having a heart for Valentine's Day.
Order by: Any time for ecards or printable cards.
For a more personal way to present a gift card, if you're going to see your recipient in person, we love this super cute DIY idea at Design Mom: Free printable alphabet chocolate wraps. Wrapping chocolate miniatures is so easy that my kids have done it. Just wrap, then affix to a card in a saying of your choice. Inside, pop a gift card, coupon, IOU. Adorable!
10. SOMETHING BUBBLY
Surely anyone can make a run to a liquor store for a bottle of (yeah, pretty overpriced this week) bubbly for a last-minute Valentine's Day gift, but we love the idea of going a little DIY with the champagne bottles to show you put a little more thought into it. We originally featured these glitter champagne bottles from the evite blog for New Year's Eve, but they're so cool for Valentine's Day too. You could even do the glitter in pink and red and silver. Just….don't get any in your actual glass, okay?
You can also check out these 6 fun champagne cocktail recipes, all of which would go perfectly fine with…well, anything. That's how I think of it.
11. AN EXPERIENCE GIFT
Okay so we wouldn't turn up our noses at Hamilton Tickets. But unless you've got a lot of money or a lot of contacts, we imagine you can come up with some other, more realistic ideas that will still be huge hits.
Think: Coupons for a romantic dinner home, without the kids. A ski weekend. A streaming movie marathon. A night at a B&B. A wine tasting course. Tickets to a local theater. Tickets for a sporting event. A family membership to a museum. An upgraded membership to a favorite museum so you can go to all the cool event openings. A cooking class for two. A private tour of a historic site. A golf day together. A golf day alone. A sightseeing tour in your own town. A brewery tour. Advanced tickets for a film series at a local festival.
Get creative! Time together is always time well spent, whatever it is you do.
12. A DIY VALENTINE'S GIFT
If you're crafty, well then lucky you because you've got the world of affordable, last-minute gifts at your fingertips. Literally. We have a whole post on handmade Valentines gift ideas and even more at our recent post on 17 DIY Valentine's gifts that kids can make, but note that plenty would be amazing coming from you too. Like this DIY XO mug at The Proper Blog that I think even I could make look good.
Fill it with your sweetheart's favorite tea, coffee or cocoa for an extra special touch.
It may not have to be more than a card with a thoughtful note. If you're up for it, you have to check out the tutorial for this handmade watercolor heart and calligraphy card from Oh So Very Pretty. But of course, you don't have to be super crafty to nail a fantastic DIY gift.
You can also bake something! I love Stacie's ideas for ways to turn a pan of brownies into Valentine's Day dessert, like these yummy homemade Fudgy Brownie Hearts with Raspberry Buttercream via A Farm Girl Dabbles. Oof.
Consider a favorite couple-y photo, printed out and framed. I made the one here just by editing a photo of my parents using the Brushstroke app on my iPhone, which can make your photos look like an actual painting. How cute are my dad and stepmother? After more than 30 years of marriage, seeing them like this may be the one thing on this page that makes me happiest of all.