We may have started talking about great Mother's Day gifts since, oh, March or so, but that doesn't mean we are totally ready for Sunday either. Hey, we're moms. We know how busy things can get.
Since this special day will be here before you know it, we've got plenty of wonderful last-minute Mother's Day gifts that won't feel last-minute to the person on the receiving end, whether it's a special mom, grandma, stepmother, or mother-in law. You can also check out our 2018 Mother's Day gift guide for dozens of ideas, whether you're heading out to the stores or looking for a fun recipe or DIY project.
But, get on it! Time is really ticking now.
BE SURE TO VISIT OUR POST ON
LAST-MINUTE MOTHER'S DAY GIFTS, NEWLY UPDATED FOR 2018
1. Breakfast in Bed. Of Course.
When we think Mother's Day, we think of a shaky tray of food appearing by our bedside for breakfast in bed. And we don't think she'll care if it's a delicious homemade meal, or a couple of pieces of burnt toast made by an eager six year old. if you're lucky enough to get to be with the special mom in your life on Sunday, consider preparing for Sunday morning bagels, eggs, yogurt, burnt toast — it almost doesn't matter. You can even make it more special by hanging this printable breakfast-in-bed doorknob hanger checklist — free from Hostess with the Mostess — the night before so she can place an order.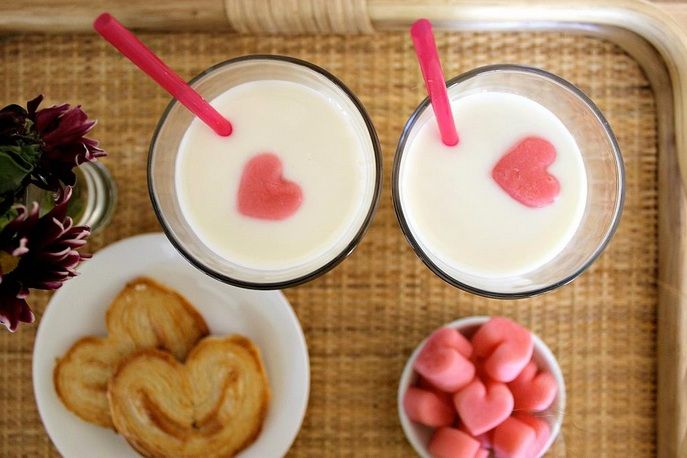 As for the food, we have so many ideas for Mother's Day brunch menus. Or  if you want to really impress, check out our roundup of the best Valentine's Day breakfast recipes that would be ideal for Mother's Day too. We love Stacie's idea for freezing strawberry milk in a heart-shaped ice cube tray to place in milk. (Amazon prime members can still grab one in time!)
2. Breakfast…Not in Bed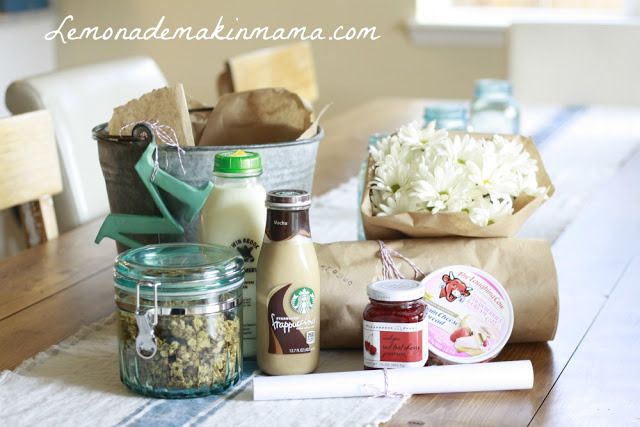 If you won't see Mom so early in the morning, we love this idea for a breakfast-themed gift basket of treats from Lemonade Makin' Mama. Include granola, glass-bottled milk, local bagels, and even a bouquet of pretty daisies as shown above, though you can tailor your basket to include anything your mom will love.
Related: The most marvelous mimosa recipes for Mother's Day brunch
3. A DIY Scarf From the Kids
Even very young kids can make mom something she'll cherish for a long time, like the 12 cool handmade gifts from the kids that we shared in this year's Mother Day Gift Guide. A craft like this homemade abstract painted scarf we featured from Crafting Connections even turns child's play into a uniquely cool wearable scarf — it's a matter of painting your kids' toy car wheels and letting them go to town on a scarf.
4. Printable Mother's Day Coupons
No time for crafting? Print out this free Mother's Day coupon book from Skip to My Lou and put together a beautifully illustrated booklet of treats. From the promise of breakfast in bed to a free car wash, there are lots of free treats in there for a busy mom that will be well appreciated.
5. A Special Book…With a Handmade Bookmark
In our roundup of fantastic DIY Mother's Day gifts, we fell in love with this tutorial for homemade marbled bookmarks using shaving cream. Kids will love this idea from Carla Wiking for Classic-Play because…well, shaving cream. And your local bookstore is always a fantastic resource for last minute gifts of all kinds. Including books.
Related: 21 more ideas for Mother's Day gifts that don't feel last minute. You can do it! 
6. Treats with Mother's Day Delivery
One way to a mom's heart is definitely through her stomach, especially on Mother's Day. Delicious cake truffles from Shari's Berries can still be ordered for Mother's Day delivery and come packaged in a box almost as sweet as the treats themselves. Each truffle reveals a hidden message for mom, making this a wonderful gift that sends love along with the truffles.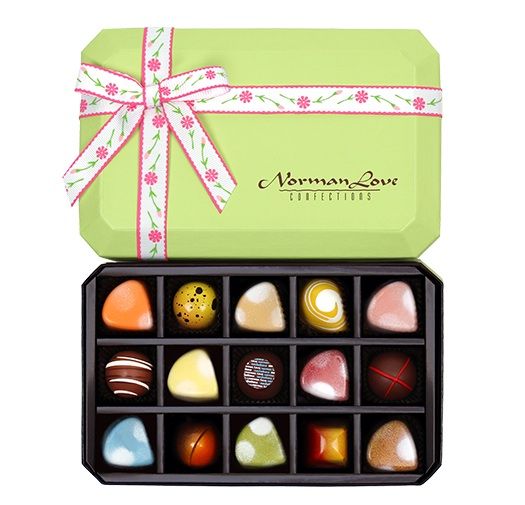 It doesn't have to be about mail order; we love to support our local businesses as much as possible. Visit a favorite local chocolate shop in your town. If you're a lucky Floridian, check out Norman Love Confections for one of their unbelievably beautiful boxes of Mother's Day chocolates. (Feel free to order a second for us, while you're at it.)
And hey, if you happen to be at the mall, Godiva has some pretty sweet (ha) options for Mother's Day including the new Messages Tout Chocolate gift box, which features some beautiful chocolates imprinted with messages like, Joy, Zen, and Luck.  It's nice to see something that's so perfect for grandmothers, stepmothers, or other important women in your life who need a little chocolate love.
7. Tea For Two…Or More
How cool is it to dress up a simple box of her favorite tea bags with these cool printable Mother's Day tea bag labels? Just $3.50 from the Paper Gravy Store on Etsy, you get an instant digital download.
Related: Sweet, easy handmade Mother's Day card ideas from the kids
8. A Homemade DIY Ice Cream Sundae Kit
With the gorgeous weather we're having in the Northeast, we love the idea of this clever DIY Ice Cream Sundae Kit that you can make for Sunday's sundaes (ha.) If you're going to be hand-delivering this kit, stop by the supermarket first and grab a few delicious pints of Haagen Dazs Artisan Collection or her favorite flavors and get ready to help mama dig in.
9. A Special Piece of Jewelry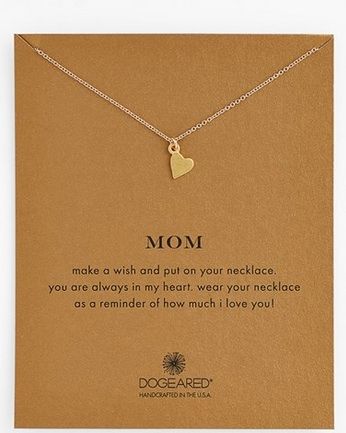 The tasteful heart necklace from Dogeared makes a special gift that can still be sent in time for Sunday. We love that the necklace is placed on a special "Mom" card, and that it comes in both gold and silver finishes. Or take a ride to your nearest Nordstrom and pick it up in-store while it's still in stock. (Just call first if you have your heart set on this one.) It's also a good reminder that it doesn't have to be pricy to be special to her.
10. Say it With Flowers
Yes, so the prices on flowers Mother's Day weekend go up about as much as they do on Valentine's Day. But they sure brighten up a mom's day. The stunning, affordable bouquets from The Bouqs can be shipped over night, with several bouquets from their California Collection available to arrive in time for Mother's Day. And this is a great way to support eco-friendly responsible farms that provide healthcare, childcare, and a living wage for their workers. We love when our gifts do good too.
11. An Awesome Gift Box Subscription
There's no question that we love gift subscriptions, or at least the good ones. One of our favorites is POPSUGAR Must Have's monthly gift box filled with special treats. With a unique and ever-changing mix of products selected by POPSUGAR's editor-in-chief, Lisa Sugar, you can expect to hear lots of oohs when each month's box arrives. This gift may not be there for Sunday, but pop in a photo of it into a card, and she'll have something cool to look forward to.
Related: 7 fantastic food subscription gift boxes that make the best last minute gifts
12. 8 Zillion Magazines, and Time to Read Them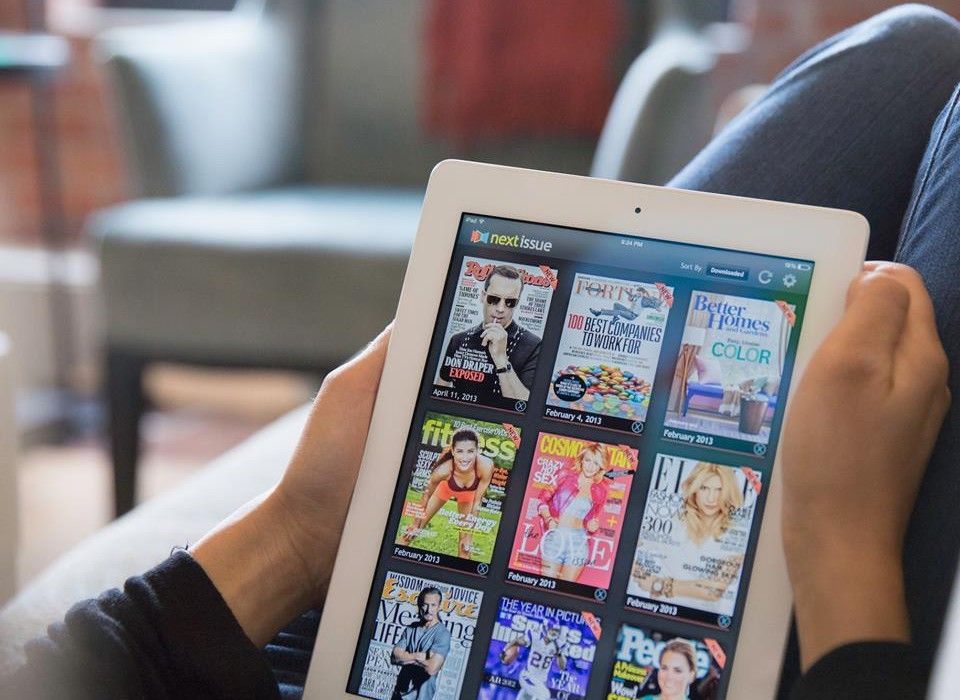 If she loves to read magazines but doesn't love the clutter of having them all over the house, a subscription to NextIssue gives her over 100 magazines (okay, so not a zillion) delivered straight to her tablet to read whenever she wants. We love their catalog of top-shelf magazines including favorites with the moms around here like InStyle, Real Simple, Travel + Leisure and Wired. Consider adding a coupon towards a few hours of quiet time so she can actually spend time with all her new reading material.
13. A DIY Spa Day
While a gift card to a local spa or nail salon is always hugely appreciated by any mom (trust us), you can also put your own basket of pampering products together just from the shelves of your drugstore. Even chains like CVS and Walgreens are now stocking more and more cool, natural, and higher end brands that feel giftier than your typical big-brand lotions and shampoos. Or go big, and splurge on something from a brand like Tata Harper, which we cannot stop raving about. You can find products like theirs at higher end pharmacies, stores like Whole Foods, or even a spa or salon near you.
14. Handmade Sharpie Dishware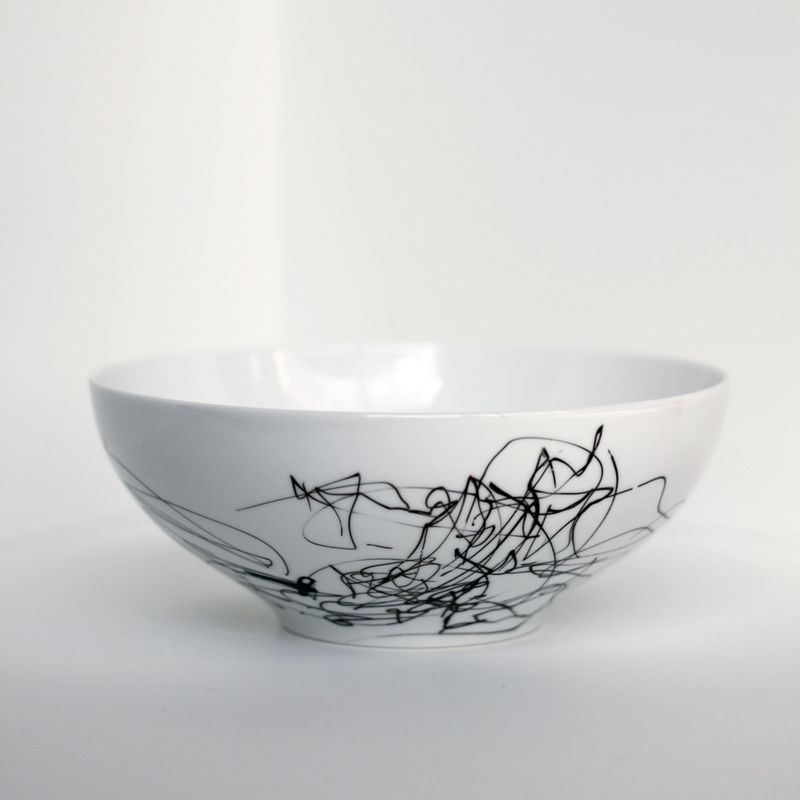 This DIY Sharpie dishware tutorial turns a toddler's scribbles into a cool gift wrap up for mama, as described on small + friendly. If you have an especially prolific artist, create a matching plate and mug for an entire set of dishes made just for her. Just don't forget to handwash, and be sure to use the oil-based Sharpies made especially for porcelain and ceramic.
Also consider Sharpie aprons, sharpie dish towels…the world is your last-minute DIY oyster when you've got permanent markers and a creative kid on hand!
15. A Memory Journal

We recently shared the importance of creating a memory journal for a mother or grandmother, so the legacy of your family can live on. There are so many memory journals, apps and other ways to make this easy. If you have time, grab a copy of My Mom: Her Story, Her Words which has all the prompts ready for you. Or, get a beautiful blank journal at a local bookstore or paperie, think about 20 questions you'd like to ask, and put them at the top of each spread, leaving plenty of room for the answers — and even for more questions later.  Then, promise Mom that by next Mother's Day, you'll make the time together to have it all filled out and finished.
16. An Extra Giant Handmade Card
Whether it's a handwritten note of love and appreciation, a cute photo of the kids, or a few scribbles on a piece of paper, we all know how important Mother's Day cards are. And we love the big impact of a super big card, like this DIY giant Mother's Day card from The Merry Thought (featured here and at very top). Love her suggestions for making an affordable giant photo into a card.
17. A Handmade Card of Any Size At All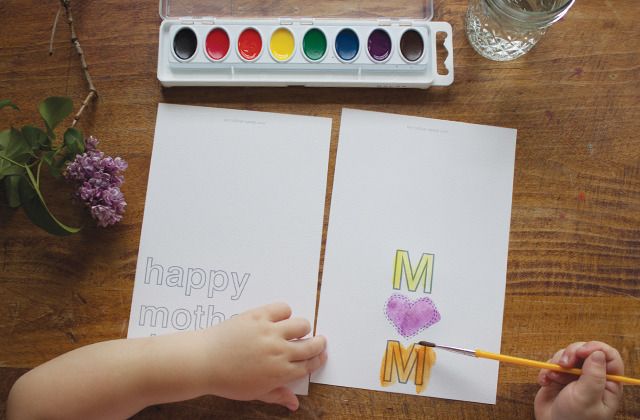 Check out our roundup of 5 Easy Handmade Mother's Day card ideas which encourages kids explore to their artistic side as they paint, glue, cut, and draw their own special card for mom. Dandee Designs' free printable card seen here looks especially pretty painted in watercolors. However much they end up outside the lines.
-Christina, with Liz