You're almost out of time, lover. Good news: We've rounded up creative last-minute Valentine's Day gifts that will remind your honey how much you love them every day. Even if you also have to love them enough to pay a ton for quick shipping.
Going the extra mile, whether with a little DIY McGyvering, a sweet printable, or an extra nifty gift from somewhere local will make your Valentine's gift seem like it's not last minute at all.
CMP is an rstyle affiliate
– This post has been updated for 2018 – 
1. Valentine's flowers. Of course.
You'll meet people who say that flowers for Valentine's Day are cheesy. Hey, you may even be one of those people. But there's a reason flowers are perfect for Valentine's Day, and here is that reason: It feels really nice to get them.
We've recommended flowers from indie farm-fresh flower company The Bouqs as one of our favorite romantic gifts for women under $50, because there are so many gorgeous options with ASAP delivery.
Also we've had good luck with Urban Stems recently, whose flowers arrived in great shop — and on time! (Above)
Or, skip the shipping and find a bouquet at a local grocery or farmer's market, if they're in season in your neck of the woods. (Not too many fresh flowers in the Northeast farmer's markets these days!) Trader Joe's is also a good resource.
To make it a little more special, don't just hand over a bouquet wrapped in damp floral paper, which screams "last-minute." Instead, get a pretty vase from a local antique shop or thrift store and have the bouquet waiting at home. Or craft up your own mason jar, thanks to the tutorials at Michael's.
Look in your local grocery or natural foods store, or Trader Joe's, for unique and affordable bouquets. If you want to stay away from real blooms, we adore the idea of kids creating their own floral crafts for a parent.
And for your Valentine's Day-averse friend, there's always anti-Valentine's Day bouquets. Because nothing says "I love you" like "I hate this day." Heh.
Related: 10 free printable classroom valentines for older kids in case you forgot. No judgments! 
2. Valentine's Day chocolate. Because, chocolate!
We have a sweet spot for Valentine's Day chocolates, but who doesn't? We especially love all of these impressive chocolate boxes that are out of the ordinary (like the box above by Compartes). Some can still be ordered in time, since a lot of gourmet food companies ship overnight or two-day mail to keep the deliciousness fresh.
You can also visit a top local chocolatier, which is bound to have its best stuff at the ready. But it might be too late for that option unless you live near a Vosges or Godiva.
Or, go DIY if you're crafty. You can:
-Pick up the biggest paper box of chocolates at the store a day early and decorate the box just for your darling with chalkboard paint and a white paint marker with tips from this chalkboard lettering tutorial at from Miss Bizibee.
-Go semi-homemade with a heart-shaped box like the one above by Kojo Designs.
-Print out pics of you two and decoupage them on with some Modge Podge, which is basically just painting layers of goop under and over the pictures — just make sure it has a day or two to dry.
-Get some acrylics and paint the chocolate box like an ombre canvas.
Finally, add your own favorite chocolates whether it's a box of kisses or truffles from Godiva or Lindt that you repackage in your own heartfelt (ha) way. You could also wrap up a batch of these make-yourself raw raspberry chocolate ruffles — so good, you'd never guess they were "clean."
3. Non-chocolate gourmet food gifts. Yum!
Heart-Shaped Jam Thumbprint Cookies | Wanna Come With? 
The good thing about gourmet gifts is they often require overnight shipping to keep the food fresh. On Cool Mom Eats, Stacie has rounded up some of the very best affordable gourmet food gifts for Valentine's Day that are more inventive than truffles. (Not that we will ever say "no" to truffles.)
Also check out Stacie's picks for the best food subscription boxes. From cookies to spices to gourmet tasting boxes, there is so much to choose from if you want to take that proverbial fastest way to the heart — and the best part is, the Valentine's gift is still to come with the next shipment, but doesn't feel like an IOU.
You can also order pints of Jeni's Splendid Ice Creams' Valentine's Day flavors ($55, at top) — buy by 2 p.m. EST on February 13, and your ice cream is guaranteed to be delivered by February 14. Let's see Cupid do that.
Or hey, DIY! So much DIY. Like these last-minute Valentine's Day cookie recipes (those heart-shaped jam thumbprint cookies above are to die for), another roundup of heart-patterned cookies that we love; a fantastic tip for turning basic brownies into an adorable edible Valentine's gift; no-fuss easy Valentine's Day gifts (which are perfect for the classroom, but truly work beautifully in any gift-giving situation); and even allergy-friendly Valentine's Day candies so everyone can feel the love.
And hey, these fun DIY Valentine's Day lunchbox treats for kids are nothing short of awesome.
4. The perfect book… and a little extra something.
There's often nothing more romantic than a picked-just-for-you book — except for maybe some time to curl up and actually read it. You can always take a stroll to your local indie bookseller and see what looks just right for your Valentine. But if you can't spare the time, that's where Amazon is your friend, especially if you're a Prime member.
A few recommendations: For the love of your life, check out the fill-in-the-blank What I Love About You journal by Knock-Knock. If he's got a sense of humor, we're laughing at Book of Things Better than Boobs — just know that it's blank inside.
For fun, there's the voyeuristic Other People's Love Letters: 150 Love Letters You Were Never Meant to See. Make the day of a true romantic with Pablo Neruda's Love Poems.
Graphic design fans will love The Book of Hearts. 
And we are smitten with All The Love in the World, for which photographer Jesse Hunter traveled the world capturing 800 hearts in 44 countries in a celebration of the universal symbol of love.
Or, let's take it a step further.
Maybe your honey has a favorite book from their youth, or a book you geeked out over together in college. See if you can find first edition books on eBay.
At a specialty bookshop, look for a signed copy of a favorite title. (Pro tip: most authors will mail you a bookplate.)
I once bought a first edition of my husband's favorite book on eBay (Heroes Die by Matthew Woodring Stover, if your partner is into science fiction and fantasy) and shipped it to the author with a self-addressed, pre-weighted envelope. It returned in time and is one of his prized possessions.
Or maybe there's a fancy new edition, like the gorgeous hardcover Collectible Editions from Barnes & Noble, including Jane Austen, Neil Gaiman, Robert Jordan, Sherlock Holmes, Shakespeare and more.
Then pair the book with a gift inspired by the book, like an antique magnifying glass for Sherlock Holmes, or a pocket book of Shakespeare's Sonnets for Sense and Sensibility.
Out of Print Clothing also has some awesome accessories, tees, and totes based on famous books including their cool banned book collection (like the socks above) which would be great for a lover of the classics — and if you need them last minute, they're available at tons of local bookstores and gift shops.
5. Keepsake jewelry and accessories. Love!
You're not going to get anything personalized at this point, but that doesn't mean you're out of fantastic options. Check your favorite department store for their drop-dead shipping delivery dates for Valentine's Day and you may luck out.
Tiffany & Co. for example (above), offers next-day delivery if you order before 3PM ET on the 13th, but it will cost you $30. (A drop in the bucket considering what you might be buying from there, though the heart pendant above is fairly reasonable.)
Nordstrom has tons of jewelry for Valentine's Day, great customer service, and flexible shipping options. You'll find options in their guide for under $50… or you could totally splurge.
It doesn't all have to be hearts or initials either; the women around here would all be thrilled with some empowering, mood-boosting jewelry like the bangles above that send the message you really get what's important to her.
For something from a smaller artist, we suggest you visit local boutiques, museum shops, or a weekend flea market that supports local makers.
6. An experience gift for two.
There's very little in life as pleasant as someone else taking care of everything, so an experience with thoughtful details will leave your giftee feeling cherished. Lots of the ideas we recommended as gifts for Father's Day are things you could do together. Some other ideas:
-Maybe tickets to the planetarium or a pro sports game?
-A spa day for two?
-A trip to the aquarium or zoo with a behind-the-scenes tour?
-A movie night IOU — complete with sitter —for those parents who don't get out much?
-A wine tasting course or couple's cooking lesson?
-A picnic in the park if you're lucky enough to have good weather?
Whatever you choose, just tuck the tickets, gift card, or a photo that represents the experience into a card with a thoughtful note. Done!
Photo: Alex Iby via Unsplash
7. An experience gift…for one!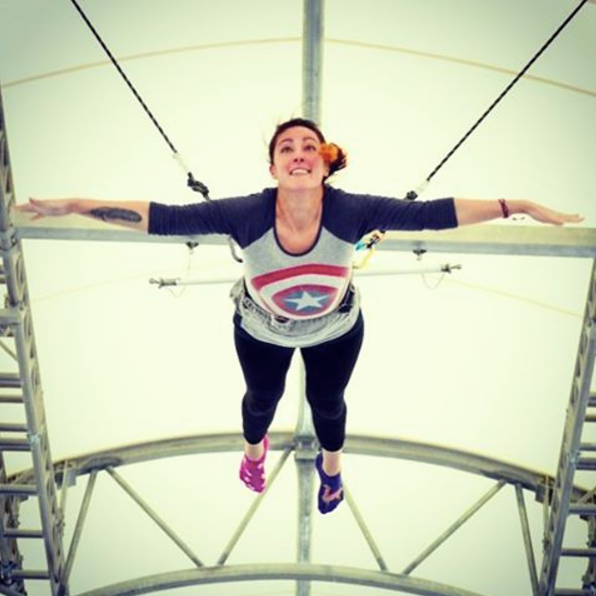 Another way to look at this is an experience gift that shows you support your partner's dreams.
Now that I'm in my late 30s, I feel like everyone around me is trying to find their purpose — or at least learn something new that's always called to them. If your honey has always secretly dreamed of doing something big, a gift in that vein not only shows that you get them, but that you support them.
Look for classes, whether at a local business or online. If they want to get into photography, consider a camera. If they dream of being a rock star, try a guitar and the game Rocksmith, which plugs right into your electric guitar and bass and teaches you who to play all the songs you love. You can get an aspiring writer a creative writing class, a new journal, and a printable piece of art with writing advice. Find a juggling, calligraphy, or home brew kit. Sign them up for an intro class in trapeze, SCUBA, woodworking, or stand-up comedy.
That pic above is me at a flying trapeze class. That experience? Priceless.
Supporting someone's dreams demonstrates your love and support in the best possible way. Even if it didn't come together until 5PM the night of the 14th.
Photo: Me! Delilah!
8. Cards worth keeping.
You Have a Nice Butt Poem Valentine's Day Card | In A Nutshell Studios
Never underestimate the power of a good card. A sweetly sophisticated card or one of these truly funny cards that make us LOL can take your present to a whole other level. Lots of our favorites are printable, too, like these Downton Abbey Valentine's Day cards (for those of us still playing binge-watch catch-up) and these Davie Bowie printable Valentine's Day cards.
Free Printable Valentine Fortune Cookies | Evermine 
If you're still looking for cards for your kid's classroom — which, let's be honest, is probably 98% of us — we have tons of creative options that you and your kids can put together in practically no time at all:
– Printable Valentine's Day cards for older kids (unicorns! David Bowie)from vikings to unicorn origami
–Free printable cards that are perfect for kids who aren't into the whole lovey-dovey thing – smart for boys.
-Wildly creative free printables
–Super-cool printables for the classroom
-Printable Valentine's Day cards for kids that all celebrate friendship (not romance, phew).
9. Lingerie…Every single month. Ooh la la.
Getting new lingerie every month seems like a luxury to us, especially when our shopping bags are more likely to see juice boxes than lacy underthings. So the idea of Underclub, a subscription lingerie gift service, is pretty awesome.
Choose whether you prefer more "feminine and flirty," "bold and fun" or one of their other categories — or let your recipient pick for herself — and they'll send a pair of designer panties each month from the likes of Cosabella and Natori. As in, not the cheap trampy stuff. And yet, it's still less than $25 a month.
10. Dinner for two. Your place. Dress: Optional.
Grilled Skirt Steak with Tomato Salad | What's Gaby Cooking
If you cook, a home-cooked meal is a great gift. But if you don't? Even better.
There are so many ideas that can make the night special if you think a little. Maybe you whip up your sweetheart's favorite dish for the first time. Maybe you serve breakfast for dinner, just for fun. Maybe you get spicy with a Mexican dinner that isn't tacos. Or maybe you whip out the Instant Pot for the perfect meal with all of the taste and less of the time commitment.
Or go traditional and cook a perfect steak, like the Grilled Skirt Steak with Tomato Salad by What's Gaby Cooking above.
Nutella Strawberry Heart Puff Pastry Tart | Stacie Billis
We've also got ideas for sweet pink cocktails and mocktails for Valentine's Day, a surefire way to keep wine chilled, and so many delicious desserts (like the three-ingredient dessert above that our own genius Stacie came up with), it's fair to say that your plates will runneth over.
And hey, if you're stuck home with kids who aren't going anywhere, check out these ideas for 3 family Valentine's dinners that turn into romantic dinners for two later. Clever!
11. An at-home date night.
Romantic date nights don't have to mean Chateaubriand for two at a fancy restaurant. In fact, some of our favorite date nights have been right at home.
To really make the most o a Valentine's Day date night at home, try one of these 14 creative suggestions — from DIY wine and cheese tasting and s'mores by the fire to slow dancing and karaoke (but quietly! Let's keep those kids snoozing).
You could also switch on Netflix and watch a romantic movie, order in and pretend you didn't, or turn the entire affair over to Datebox, which is filled with curated activities and snacks (like the dance-themed night, above). Because nothing takes the excitement out of a date night more quickly than the "what do you want to do? No, what do you want to do?" conversation.
12. A gift card…with a caveat.
Spa and Pampering in a Jar | Classy Clutter
Tread carefully with gift cards, which may not send the intended Valentine's Day message, i.e. "I've thought long and hard about this because you mean so much to me."
However if you're creative — say, a big Saks gift card for use in the lingerie department — you can score. Lots of gift cards can be delivered on the spot via email from the retailers we've mentioned here, from Tiffany & Co. to Nordstrom to the subscription box companies and gourmet food purveyors. And we absolutely swear by making gift cards with these 12 awesome tips.
Try a charity gift card from your Valentine's favorite charity or from Charity Choice which lets you choose from more than 1,000 charities. The physical card ships next business day but you'll pay for overnight delivery.
Instead, send as an ecard, or print out the gift certificate and paste it into a real card. Talk about having a heart for Valentine's Day.
For a more personal way to present a gift card, if you're going to see your recipient in person, we love this super cute DIY idea at Design Mom: Free printable alphabet chocolate wraps. Wrapping up chocolate miniatures is so easy that our own kids have done it.
Just wrap, then affix to a card in a saying of your choice. Inside, pop a gift card, coupon, IOU. Sweet!
13. Subscription gift boxes
We have so many ideas for the best subscription gift boxes, you can surely find the perfect one. Your recipient should be able to receive a notification via email that the box will ship soon, which is one step better than an IOU.
There's Mistobox and Blue Bottle for coffee; Olive Box for fans of stationery and pretty things; Quarterly for the on-trend tastemaker; the original Birchbox (his or hers) for the cosmetics junkie; Rachel Zoe's new style box; even gift boxes that are filled with necessities like toothbrushes, which can actually be pretty sexy for busy parents.
We've also got plenty of gourmet subscription box ideas on Cool Mom Eats, whether your beloved is a fan of chocolates, international foods (like Takeout Kit, above), or even a box dedicated just to wacky treats from Japan.
And speaking of wacky, for less conventional last-minute Valentine's Day gifts, there are tons of subscription box options too. I'm super intrigued by the Mysterious Package Company, where you send an experience — A cursed book! A magic lantern! — over several mailings, including an Indiana Jones-worthy crate that must be pried apart.
There's Lick My Dip for fans of spicy foods; Raw Spice Bar for fans of, well, exotic spices; Survivalist Box for the outdoorsman or woman; Golf Pro Market for the golf fan; Bloomin' Bin for gardeners.
We're just stopping here for now. But clearly, there's a box to suit any kind of last-minute Valentine's Day gift recipient anywhere.
14. DIY Valentine's Day gifts.
Lipstick Wall Art | Spark and Chemistry
DIY gifts are some of the best, especially when they come from our kids. Check out our huge list of Valentine's Day gifts that kids can make that are so cool, they practically look pro. From DIY mugs and origami wall art to mini Oreo snacks and heart-shaped donuts, everything is practically guaranteed to bring a smile to that special someone's face.
Heart Friendship Bracelet | Moms and Crafters
And don't forget our fantastic post of DIY Valentine's Day gifts too, which includes everything from candy necklaces to potted succulents. Kids can make them, but they'd be pretty perfect coming from you too.
And we also have some adorable crafts that kids can make for their BFFs this Valentine's Day — because friendships are always worth celebrating.
15. Printable artwork
Pick a favorite quote, sentiment, or theme and search Etsy. You're likely to find a piece of downloadable, very affordable printable art. Now just frame it up and you get a daily reminder of your affections.
We love the modern, bold, printable typography artwork from Hello Alex Design — just 5 bucks! I also am really drawn to the very current combo of calligraphy and flowers from Rosemary Letters, but the options are endless.
You can always search quotes if you two share a favorite show, movie, or book. An I Am Yours and You Are Mine print for GoT fans? Perfect.
16. A box of nooky. Really.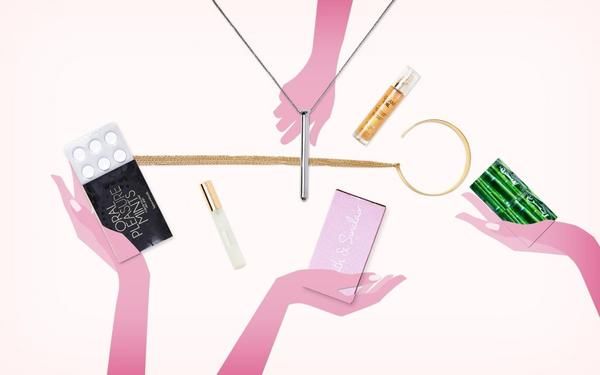 Want to go a step further than lingerie? Allow me to delicately mention that you can find all sorts of fun things to do (possibly in that lingerie) with a specialty box from Unbound.
Whether you're looking to get a little 50 Shades or just want something fun to do in the shower, there are tons of choices from vanilla to Christian Grey.
17. A photo of the two of you, made art-ier…aw.
Consider a favorite couple-y photo, printed out and framed. Liz made the one here just by editing a photo of her parents using the Brushstroke app on her iPhone, which can make your photos look like an actual painting. How cute are her dad and stepmother? Let's hope we all look so happy after 30+ years of marriage.