We know that sometimes life catches up with you and you get to that point that you're scrambling for ideas for a cool last minute Father's Day gift–not that you love him any less than those who had their gifts sorted out back in January. (Ha.)  Or hey, maybe he's just so hard to shop for that you're stuck. If that's the case, allow us to help you with lots of cool gifts for dads that you can still have shipped, pick up somewhere local, or simply make yourself. Even if it's just amping up his breakfast in bed with some free Father's Day printables (via Elegance and Enchantment)  like the ones above
Hopefully one–or more?–is just perfect for the awesome dad or grandpa or step-father or father-in-law in your life.
Gourmet Food Gifts
The way to a man's heart blah blah blah. You know it, and it's true. Since gourmet food gifts tend to be shipped overnight or two-day to stay fresh, it also happens be be one of our favorite gift recos for procrastinators. Or uh…just busy people. The Father's Day cupcakes from Baked By Melissa are bite-size treats from heaven, including Chocolate Peppermint, Peanut Butter Cinnamon, and Chocolate Pretzel. A 25-pack should do the trick. You can order until 3PM today (Friday); or if you're lucky enough to be in NY or NJ pick them up yourself. Manhattan-ites can even have them messengered for a $10 fee.
You can also find a local shop where Dad lives, and have something he loves delivered over the weekend. Or call his favorite restaurant and prepay everything with your credit card–tip, too. There's something so indulgent and wonderful finishing a meal at a restaurant and hearing, "It's all taken care of."
An Experience Gift
We've always been fans of quality time spent together, whether it's cuddling up watching Netflix or heading out to do something you've never done before. Either look for tickets for things you can all do together–go to a ball game, see a concert, take a bocce lesson.
Or maybe get him something just for Dad. Or Dad a buddy or two. Has he always wanted to take cooking lessons? Charter a sailboat? Attend a wine tasting? Go whitewater rafting? See Mount Rushmore? Go ziplining? Spend a day in a spa? You can find tons of options in your own community, or visit a site like  Cloud 9 Living,
A Monthly Gift Subscription
Here's a secret: Monthly gift subscriptions never feel last minute, because you know that the first package is yet to come (and presumably through no fault of your own).
Mantry is a great gourmet subscription site just for dudes, and we're so impressed with the quality of the artisanal goods they pick, and the fact that you get full-sizes of everything.
We recently became fans of Dollar Shave Club and it's a nifty way to get him all groomed and fancy each month. Super affordable too.
We also love NerdBlock: Think, ComicCon in a box. It's an awesome monthly subscription just for the geeky dads in our lives. Not that we wouldn't want one ourselves.
A DIY Crafty Gift
We have so many fun ideas for DIY handmade gifts all over our site that would be perfect for Father's Day. We love this crafty work of art from the kids, and you'll find the tutorial from Pink Sugarland.
Simply grab some time on Saturday to snap a simple photo of the kids, like this one from Crafty Texas girls complete with a chalk design background. If you have time, add a frame, even one the kids decorate themselves.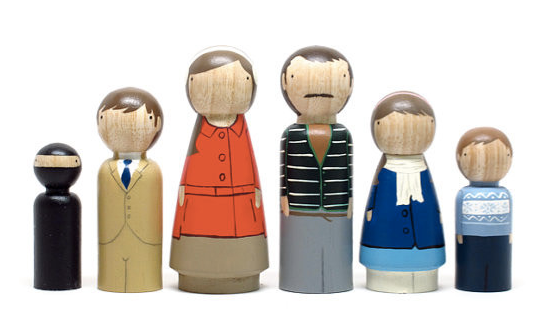 Another keepsake-y idea for dad is to let the kids paint him a handmade peg doll family with each of you represented. While it might be too late to get your hands on this terrific kit from Goose Grease, you could cobble together your own materials from a craft shop.
Breakfast in Bed
Check out our post on 6 Father's Day brunch ideas the kids can help make, with everything from Praline Bacon (zomg) to DIY pizzas.  Speaking of bacon, we've also got 6 Father's Day recipes using bacon that are to die for. (Or to squeal for?)
Bring it to bed on a tray, and  even make it a little more special with the free printable Father's Day mini banner from Hazelfly shown above.
A Mix Tape
This is one of our favorite ideas from our roundup on Cool Mom Tech of last minute tech gifts for Father's Day. Whether you buy a cool mix tape USB kit like this one, or just upload his favorite MP3s onto a cool flash drive that you can grab from any electronic shop or local boutiques that sell quirky gifts.
A DIY Keepsake Photo Book
There is nothing more special than a keepsake album, thoughtfully put together by a kid, a grandkid or a partner. It's definitely too late to snag one of our favorite custom photo books, but you can still print your favorite photos at your local drugstore, Target, or Walgreens, and put them in a photo album, like this Instabook sized just for Instagram photos from Rag & Bone Bindery.  You can't get one mailed on time right now, but short of an IOU, you may be able to find in a fine stationery store near you. Or look for something similar. You can do it! Just don't wait to do it Saturday night at 11PM.
A Thoughtful Gift Card
See how we said thoughtful? That was intentional. Gift cards shouldn't just be something you grab at your local wherever as long as you're there anyway. If you know he's an entertainment junkie, hit iTunes or Google Play. If he's a foodie, Mouth offers cards from $25-500 that they can email so he can grab the small-batch whiskey, fancy hot sauces, or gourmet cookies of his dreams.
If he's a fashion-maven, a gift card from his favorite department store or local boutique is perfect. Or in our gifts for stylish dads, we recommended a gift card to new online service Original Stitch, which lets him design his very own bespoke shirt that's custom tailored in japan.
We also recommend you check out gift card through the Gyft app which now lets you record a personalized video to accompany any card at all that you send out from your phone.
A Homemade Food Gift
There are so many options, from his favorite cookies (we're partial to these copycat Girl Scout cookie recipes),  lheart-shaped Rice Krispy Treats, or savory goodies like a homemade spice rub. This week though, we're all drooling over this recipe for Chocolate Stout Whoopie Pies because…uh, yeah. Whoopie Pies. Chocolate. Stout. Done.
Bourbon!

Did you know that tomorrow is National Bourbon Day? We don't think it's a coincidence that it falls just before Father's Day. If he's an imbiber, grab his favorite label–half the men in our lives are obsessed with Maker's Mark so we love the idea of the new Maker's 46 which dials up the vanilla, oak and caramel flavors.
Alternately, hit the local liquor store and look for something made in small batches, maybe from a local distillery. It's how we discovered Red Hook's Widow Jane 7 year bourbon whiskey and we've been hooked (ha) ever since.
A Magazine Subscription: A Real One. With Paper and Everything.

Yes, we know, magazines are dying and blah blah blah. But there's something to be said for getting that favorite magazine slightly rolled in your mailbox each week or month and knowing you can put aside some special time to read it. Magazine subscriptions are ridiculously discounted on Amazon right now: National Geographic is $19/year, Fast Company is $12, Esquire is $14, The New Yorker is $69.99. And if you know The New Yorker then yes, that actually is a discount.
A Charity Gift Card
If we know one thing about the dads in our lives, they have big hearts, whether it's for protecting the environment, rescuing dogs, supporting medical research or funding the arts. That's why in our recommendations for gifts for the dad who has everything, we suggested the charity gift cards from JustGive.org. You pick the price, you pick the ecard design, he picks the charity. You can even set up monthly giving, for a real gift that keeps on giving.
For even more Father's Day gift ideas, check out our entire Father's Day Gift Guide series of posts. We have dozens for you!