It's been a pretty mild winter for everyone this year, but the season isn't over yet folks. In the words of the late, great Prince, "Sometimes it snows in April." Plus, March comes in like a lion, and all that, so it will still be a bit longer before we're in full on outdoor play mode.
Whether it's the cold, snow, or rain that has your kids stuck inside over the next couple of months, we've got your back with tons of fun rainy day indoor activities that can get you and the kids through the long hours.
And still smiling at the end of the day.
Related: 10 awesome kitchen projects to do with kids when you're stuck indoors.
1. Cuddle up on the couch and binge-watch some great shows with your tweens. I recently polled our editors and came up with some really great options that are tween- and parent-approved. Isn't it fun when you can actually watch TV with your kids — and enjoy it too?
2. Make Friendship Bracelets. We've got 4 DIY friendship bracelet tutorials that require little more than colorful string and some focused attention (theirs, not yours). The kids will have hours of fun creating fishtails and braids, and they can give them out to their BFFs on National Friendship Day this spring.
3. Have a dance party with some of our favorite family music albums, like Let All The Children Boogie: A Tribute to David Bowie, which is sure to get everyone dancing.
4. Grab some blankets, pillows, and chairs and make a cozy indoor fort. Or, if you have cardboard boxes laying around, DIY an indoor playhouse — a castle or an entire little village. We have tons of ideas for cool ways to transform cardboard boxes into homes, toys, and instruments too.
5. Make a photo booth with our favorite photo booth apps and strike a pose. Kids can take selfies for hours.
6. Find free printables — there are hundreds to choose from, but we're especially fond of these awesome RBG coloring pages. Or for all you Hamilton fans, the free printable Hamilton paper dolls (above) are Awesome, Wow!
7. Have a family game day with these cool group card games. All of these games we rounded up have fairly simple rules so you can jump right in and start playing. Plus, most are good for kids of all ages. Or, if you need some alone time, teach them how to play "Solitaire" the old-fashioned way with a deck of cards.
8. Have a pizza party where the kids are the chefs. Our Make Your Own Pizza Pinwheels are easy, fun, and — best of all — kid-approved.
9. Play dress up! Open the costume bin, get out the superhero capes, wigs, and fairy wings or make your own Mardi Gras masks.
10. Make pancakes for breakfast, or for dinner (breakfast for dinner is a real crowd pleaser at my house). We have tons of delicious pancake recipes to choose from over at Cool Mom Eats. If your kids are old enough, have them cook up a batch for the whole family.
11. Spend a day reading together. Download kids' ebooks to your tablet or e-reader, starting with this our list of the best kids' books of the year or the recent ALA award winners.
12. If you have younger kids to entertain, you have to check out these No-Sew Stuffed Sock Animals from Handmade Charlotte — so cute! All you need is some spare socks (we all have those, right?) and a couple of other crafting items you probably already have at home.
13. This. Unicorn Poop Slime, courtesy of MomDot blog. (Just be sure to read through her instructions, because she has great tips for making this slime without Borax. But if you want even more natural alternatives for safer slimes that are chemical-free, we found 5 great recipes to try.)
14. Play a few games of Laundry Basket Skee Ball! As a born and bred Jersey Girl, I love a good game of Skee Ball and this idea from Frugal Fun For Boys & Girls brings the beloved Boardwalk game indoors. Fun!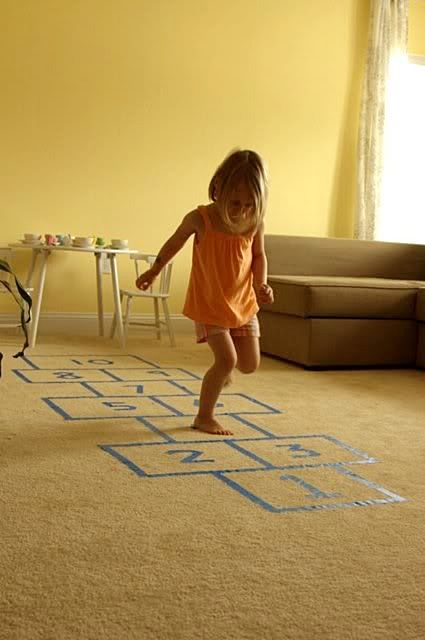 15. Borrow this idea from Like Mom and Apple Pie and grab some painter's or masking tape to create an Indoor Hopscotch Board. The kids, and you, will enjoy jumping off some energy.
16. Create a family time capsule. Have your kids write down their favorite foods, toys, books, TV shows, friends. Milestones over the past year and wishes for the years to come. You can work together on a family portrait. Whether you open the capsule in a year or wait until the youngest has graduated from high school, this will be a rainy day activity worth doing.
17. And if it does ever snow this winter… Make snow ice cream! We have an easy recipe for that.