I can see in my social networks this year that so many more of us are looking for homemade gift ideas for the holidays. It's not just that homemade gifts allow us to save some money (well, depending on the gift of course!), but they allow us to give an extra-special piece of ourselves. And at a time that we're resetting a bit, and focusing on what's important, I think nothing is more welcome these days than a DIY gift that you put your heart into.
We've shared so many homemade gift ideas — like so many — over the years, that I wouldn't to put them all together here in one convenient place, to hopefully help you find an idea that's just right for you.
Now that I'm a mom, I finally understand why every holiday, every birthday, every Mother's Day, when we asked my mother what she wanted, she said, "make something for me."
200+ of our favorite homemade holiday gifts for everyone on your list
While I've tried to sort these out generally, to help you better find what you're looking for, know that so many of these gifts are good for so many people. Cookies kids love may be perfect for neighbors and teachers, while homemade gifts for moms could be perfect for grandmas and best friends.
Happy making. And happy giving.
Homemade Cookie Gifts and other Sweet Treats

Peppermint candy cane cookie balls from Two Twenty One.
12 spectacular (really) homemade, no-bake cookie ball recipes A little effort, but a lot of wow
8 cool pop culture gingerbread cookie ideas From Groot to Leia to Hello Kitty
7 creative Christmas bark recipes Like we could say no to Christmas bark.
Impressive n-bake holiday cookie ideas Each one still gorgeous enough for gifts, cookie swaps, or impressing your neighbors
10 of the best Christmas cookies from around the world from Mexico to Argentina to Greece to Germany
Dutch Speculaas Cookies recipe from Grown to Cook
11 of our favorite classic Christmas Cookie recipes perfect for the traditionalist
The 1 sugar dough recipe that makes 10 Christmas Cookie variations We swear by it!
5 thumbprint cookies for easy holiday baking The kids can help.
8 homemade Hanukkah cookie gifts Eat them all 8 nights…and beyond.
Yummy candy cane recipes so you can use up the broken ones
Creative homemade holiday bake sale treat ideas Adorable enough to gift to all the kids on your list.
12 thoughtful homemade food gifts for moms but honestly, who wouldn't love homemade truffles or lemon curd?
The easiest homemade holiday cookie gift recipes for people who don't like to bake. Got you covered too, non-bakers.
More homemade food gifts…and drink gifts

Homemade buttermilk pancake mix in a mason jar from Skip to my Lou
12 mason jar food gifts your kids can help make From sweet to savory, they're perfect for teachers, cousins, neighbors…everyone.
Our favorite fabulous but super easy homemade food gifts From apple butter to spiced nuts, it doesn't take a lot of effort to please.
9 delicious food gifts for people who love to eat From fieiry mustard to gingerbread granola, these homemade gifts for foodies are big wins.
10 make-ahead homemade food gifts While homemade gifts like baked goods are best served fresh, these ideas let you start a little earlier and cross a few things off your list.
11 easy but outrageous homemade liqueur gifts Skip the bottle of wine and try a homemade Nutella liqueur or a jalapeño infused tequila.
11 easy, tasty homemade holiday food gift ideas From chocolate-dipped pears to an entire DIY cookbook holiday gift box.
9 homemade food gifts as gorgeous as they are delicious From DIY tea sachets to nougat with rose water, this Mother's Day post is perfect for so many people on your holiday list.
Homemade gifts for anyone on your list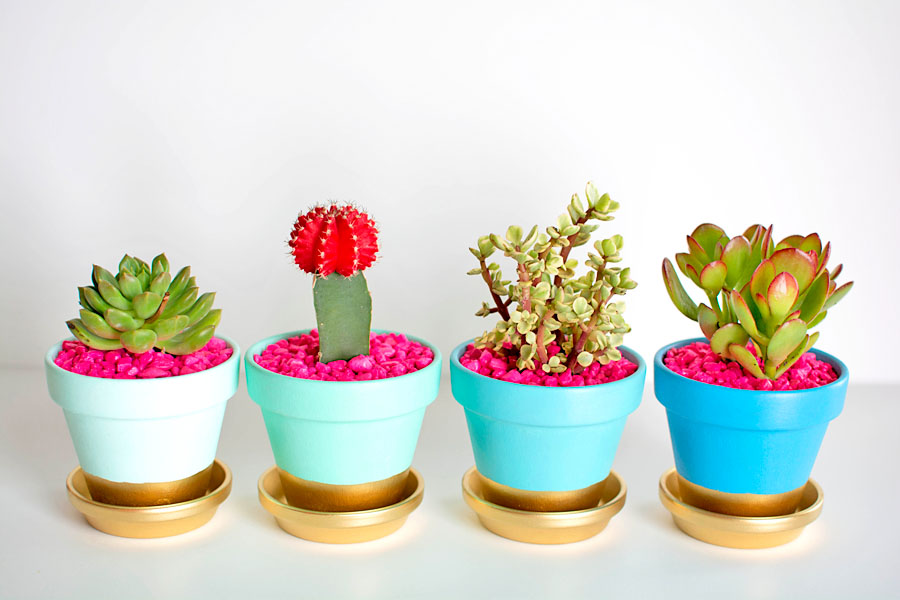 Homemade gold-dipped succulent planters via Homey Oh My
20 of our favorite DIY gifts for an easy homemade holiday Ornaments, potpourri simmer pouches, painted succulent planters…terrific ideas!
Homemade mason jar spa gift ideas Spa-at-home gifts are so perfect this year
How to make a YOUR favorite things gift box for your best friend Move over, Oprha!
How to make your own weighted blanket and save yourself about $100
How to DIY the most popular homemade superhero capes on Etsy (No stealing, the artist put it together herself!)
Homemade gifts for dads (and grandpas)
"My Dad Rocks" DIY frame from Linda's Learning Loot
DIY holiday gifts from kids for everyone on their list including dads, granddads, and stepdads
For Dad: 10 homemade food gifts from the kids They're not just for Father's Day!
13 creative homemade gifts for Dad from the kids Take a peek — grandpas and uncles and even moms will like them too.
11 easy crafts for rock star dads from the kids they all celebrate his awesomeness
8 homemade cards for Dad from the kids He'll feel so loved
20 fantastic DIY gifts for Father's Day that work for the holidays, too
Homemade gifts for moms (and grandmas)
DIY potpourri simmer pouch tutorial via Domino
15 easy recycled gifts for moms from the kids Frugal and still fabulous. Eco-friendly too!
13 truly creative gifts for Mom that kids can make and give From keepsakes to…well, they'll all be keepsakes, right?
Even more cool handmade gifts for mom from the kids Well, maybe with a little help
DIY holiday gifts from kids for everyone on their list including moms, grandmas, stepmoms….
A beaded Mom-Daughter DIY necklace set which can totally be a Mom-Son necklace set, too
18 cool homemade gifts for mom from the kids Written for Mother's Day, but perfect for the holiday, too
How to make your own affordable DIY me-time basket for Mom Hint hint
Homemade gifts for teachers
Personalized hand sanitizer gift for teachers via Delia Creates
Homemade and semi-homemade food teacher appreciation gifts: Don't forget them this year.
Printable teacher cards to go with homemade gifts They take any gift up a notch with little effort.
Creative ways to thank our teachers this year including lots of easy homemade gift ideas.
6 DIY holiday gifts just for teachers from the kids
Homemade gifts for kids…from kids

Homemade No-Sew Pop Tart Pillow DIY instructions from Aww Sam
12 homemade holiday gift ideas from kids for kids, grandparents, parents and more
How to make DIY Santa slime in a jar The cutest!
DIY holiday classroom gifts for kids to make for classmates
Even more recipes for homemade, non-toxic slime All Borax free.
Cool craft kits for kids who want to make their own gifts this year Great for kids of all ages
9 DIY craft projects for tweens and teens Put those older kids to work sewing and hot-glue-gunning!
The coolest lanyard patterns. Get those keychains going!
Homemade XOXO mug instructions from the Proper Blog
11 easy gifts kids can make themselves for everyone they love
Sugar skull craft gift ideas for kids who love everything sugar skull
Homemade origami ornament tutorials Angels, Santas, stars and more
Sweet heart-shaped crafts from kids for their BFFs Why wait until Valentine's Day?
Creative gift wrap and gift tag ideas for all your homemade gifts
DIY chalkboard inspired gift wrap instructions via Bonnie Christine
100+ of our favorite printable holiday gift tags and gift wrap ideas all in one place Start here, for links to so many incredible roundups we've put together over the year
15 beautifully designed printable holiday gift tags, all free. Free!
14 creative gift wrap ideas to give any gift a little more oomph No matter what's on the inside, the outside feels like a gift too.
10 festive way to package holiday cookies to make them more special From printables that jazz up a plain paper bag, to ways to regift those gift tins

Printable homemade cookie envelope from Going Home to Roost
10 more pretty ways to package holiday cookies for gifting
8 creative ways to wrap a bottle of wine Each one just a little giftier than pulling the bottle out of a plastic bag
Printable holiday gift tags that make small, affordable gifts more homemade Help with gifts right from your drugstore shelves.
Homemade ideas to make 12 of the most popular gift cards more thoughtful
Top image: Samuel Holt via Unsplash