When you think back to the best toys of the year (and other playful gifts for kids) you probably think about tech, tablets, and things that require cords and batteries. And yet there's so much more, from wonderful board games, to handmade dolls, to decidedly unplugged toy that inspire tons of creative play and imagination.
While we've got all the cool tech toys covered for you over at Cool Mom Tech, here are 22 of our favorite new toys of 2015 that captured our — and our children's — attention. Most are from small brands that really value all the attention they get, but there are a few larger companies really doing thing well this year, too.
– Liz + Kristen
This post is part of of our annual series featuring our Editors' Best of 2015. No pay-for-play, no contests to enter, no voting! Just the things we've loved in 2015 that we think deserve an extra nod for coolness.
Kudos to Famous Oto which turned a successful Kickstarter for ice cream truck playhouses into a business now selling an awesome taco truck playhouse, a version for cats, and some more ideas in the works. Hipster heaven.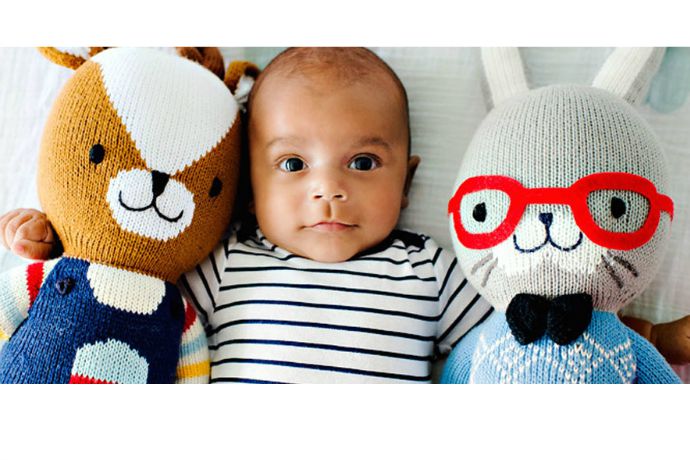 We're always fans of gifts that give back, and so we're delighted with these adorable, hand-knit dolls that partner with outstanding organizations provide ten meals to hungry children for every purchase, both in the US and abroad.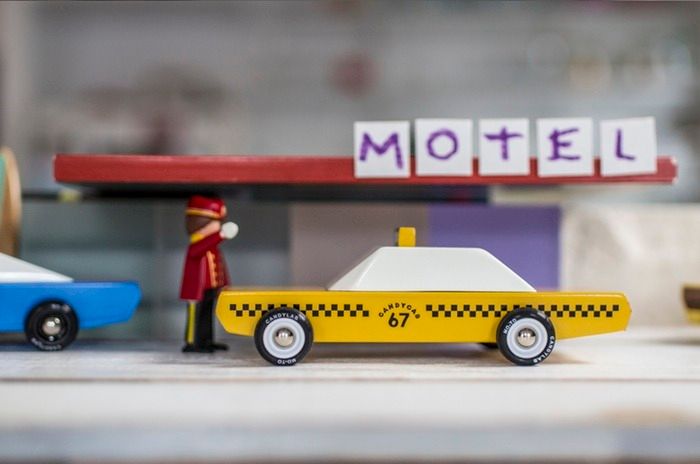 Another Kickstarter campaign that blew up, Candylab Toys made our best toys of 2014 too, and then came out with six brand new designs that are just as wonderful. We love that they're all made of solid wood and built to last, plus the designs are inspired by actual retro vehicles. Interestingly, it's not just kids buying these cool campers, taxis, race cars and vintage woodies at all.
This is the year we saw the adult coloring book trend really blow up, and with it, more coloring fun for kids in the form of giant coloring posters. Our vote goes to French company Omy, whose whimsical illustrations of cities and places are so fantastic, they were widely copied.
Related: 21 of the coolest coloring books for adults. Pass the markers.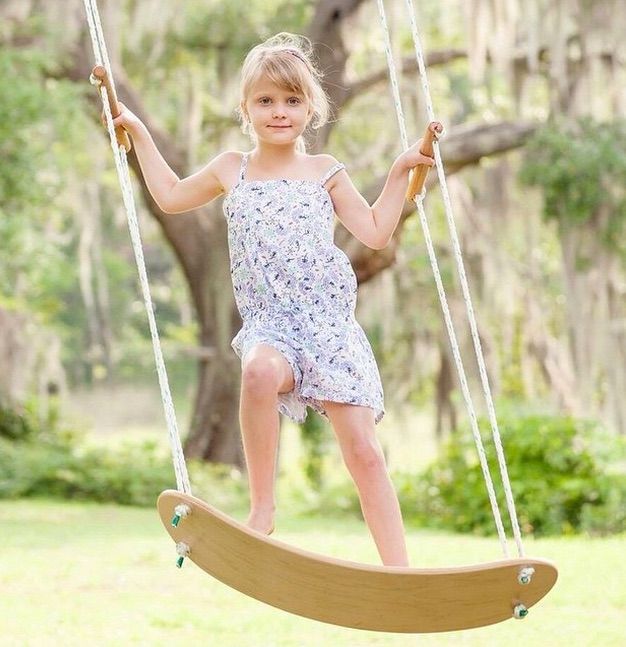 It's a swing, kind of. Only it's the swing that will breathe new life into that old swing set and bring all the kids to the yard.
For a gift for the crafty kid who has everything, we fell in love with this clever new craft box that provides your kids everything they need to make a project — and then pack it up and send it back so it can be given someone in a children's hospital or nursing home who will really value it. Wow.
We've seen personalized plates before, but none quite like these, which encourage kids to play with their food — after we get to. Turns out chicken nuggets are infinitely more exciting when served in the shape of pants, over an illustration resembling your child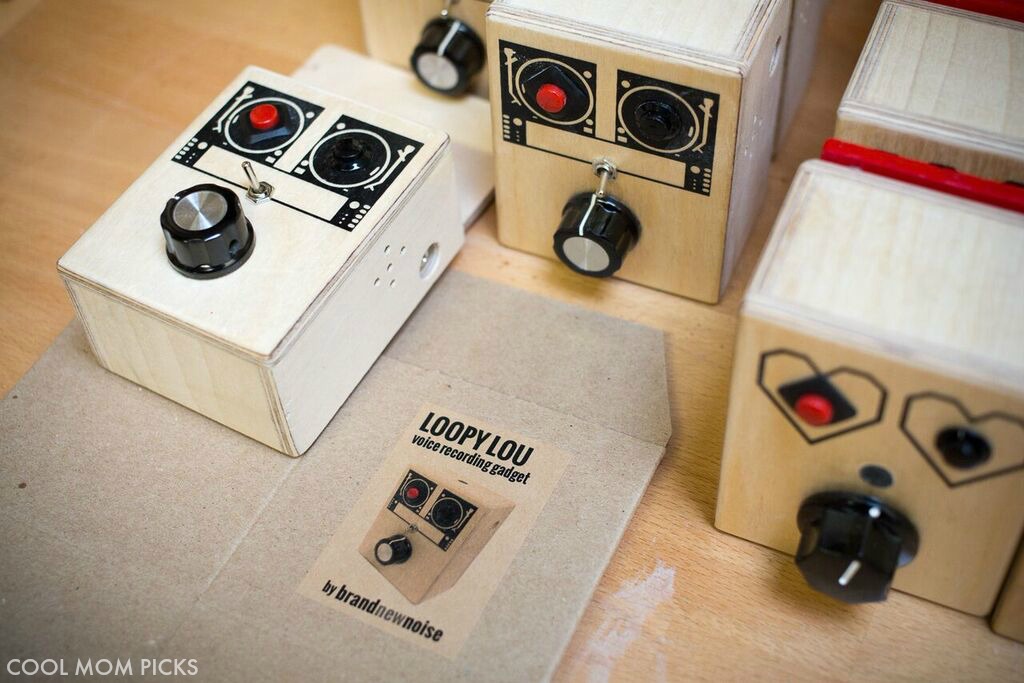 Our kids discovered these wonderful handmade sound machines in a museum shop this summer, that let them record, modulate, and playback music, their voices, or any sounds at all. They've been around a few years, but this year they launched DIY kits for slightly older, more intrepid kids who want to try their hand at constructing and decorating their own.
Can you tell we're suckers for open ended play? The collection of handmade wooden playhouses from this California company are just amazing, from rockets to castles to…well, let your kids tell us what it is. They'll know.
Related: 14 of our favorite small online children's boutiques for Small Business Saturday
For kids on the Autism spectrum, we were really happy to discover this clever new toy that helps children understand and express feelings, all with beautiful design. We know some adults that could use it too.
The recycled wood pulp YOXO building kits are great fun, allowing kids to construct multiple characters with a single kit — and even more if you add your own pieces from LEGO, Mega Blox or even a cut up cereal box or paper towel tube. This year's brand new pegasus is a winner.
While the new LEGO Star Wars kits would be the obvious choice, we're really happy to see their Elves kits which launched earlier this year, and don't reference any movie property in particular, but will be popular with kids who have outgrown fairies, as well as new fans of Maleficent, The Lord of the Rings, and even the Dark Crystal.
For younger kids, we're happy to see LEGO continuing their commitment to building through imagination with sets that are themed around…nothing. These LEGO Brights come in colors all our younger kids love and let them create anything they can dream up.
A soft, loveable superhero that looks more like your own child than something from the big screen? We're sold on this Etsy shop's beautiful and affordable work.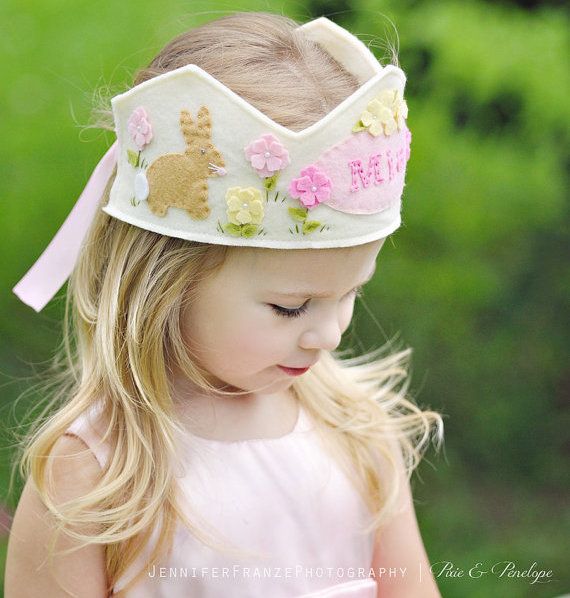 We're suckers for gorgeous andmade dress-up clothes for kids and have featured plenty over the years. This year for Easter, we discovered truly beautiful, heirloom quality felt crowns, hats, and even pixie wands from a Nashville maker and we can't pick a favorite. Whether your child is into Frozen, football, or fantasy, she's got you covered.

Sometimes the simplest ideas are the best, and this collection of repositionable tapes that look like roads, railroads and trolley tracks is just cool.
For years, we've been fans of Boogie board which makes the best ever travel toys for kids, in their genius "erasable" LCD e-writing tablets. This year they're out with a new junior versione specially for younger kids with a nice, wide surface so less steady hands they can practice writing letters, numbers, or just tracing images they place underneath it.
Take little green army men. Remove guns. Refashion as skateboarders, surfers and snowboarders. Win.
If you remember trouble dolls as a child, you'll like Gerd Hahn's reinterpretation which allows children to tuck their worries or concerns into the mouths of their new soft friends, to help them work through anxieties in a healthy way.
Superheroes are big this year (as uh, every parent knows by now) so how clever it is to take those classic Fashion Plates design kits of our own youth, and adapt them for kids to create and color their own action heroes.
And if you'd like to channel your kid's superhero obsession into something really creative and fun, this make-your-own comic kit activity book is super cool. And BIG. It's very, very big.
Related The best children's books of 2015
What can we say — this is an artist after our own hearts. Sonja Singh is taking upcycled Bratz dolls, removing the provocative clothes and makeup, and turning them into the kinds of girls we'd rather our kids emulate. It even inspired artist Wendy Tsao to create female hero versions, and her Mighty Dolls project includes the likes of Jane Goodall, J.K. Rowling and Malala.
Have your kids take a look at them; who knows, maybe it will inspire the next generation of toymakers creating dolls that parents actually like as much as their children do.