Every year, we love finding the coolest Mother's Day gift ideas for our readers who are prepared super early. But, as moms ourselves, we know that it's important to share tons of great last-minute Mother's Day gift ideas too, since life comes in two speeds: busy and busier.
So if you haven't gotten around to finding that perfect present for all the mothers in your life yet, don't worry!
We culled 24 ways you can still pull off a fabulous surprise for her with thoughtful last-minute Mother's Day gift ideas that don't feel last-minute at all.
For even more ideas, be sure to also check out our 2017 Mother's Day Gift Guide, where you can find awesome, free or handmade ideas you can create just in time for the big day.
At top: Free printable Mother's Day vouchers by The Curve
CMP is an Amazon and rstyle affiliate
Related: 2017 Mother's Day Gift Guide: Tons of fantastic gift ideas!
1. Last-minute Mother's Day gift ideas: Breakfast in Bed
We featured the adorable printable doorknob menu (above) by Hostess with the Mostess in our roundup of thoughtful and creative printables for Mother's Day, because we can't imagine a more perfect way to deliver Mom exactly what she wants for breakfast (and give her some extra sleep too).
The menu items hardly have to be gourmet. In fact, there's something wonderful about receiving a wobbly stack of misshapen pancakes from excited kids. But if want to get a little more adventurous with breakfast, here are some fantastic Mother's Day breakfast or brunch recipe ideas.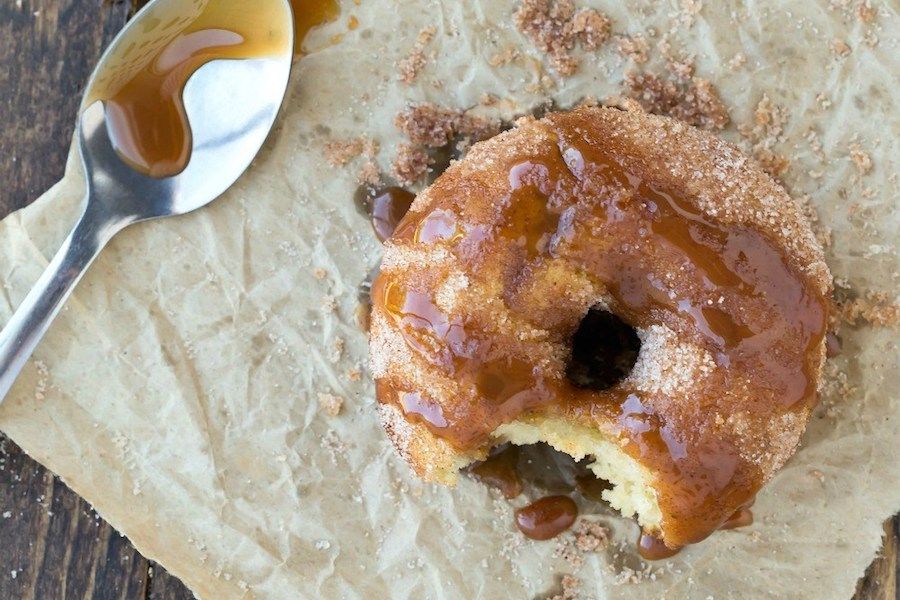 Baked Churro Donuts | I Heart Eating
We've got a full 75 of the best Mother's Day recipe ideas to help you out! But here are just a few that are perfect for brunch:
5 easy Mother's Day brunch recipes that kids can help make (including these mouthwatering Baked Churro Donuts, above)
3 complete Mother's Day brunch menus
5 brunch-perfect sticky bun recipes
6 simple Mother's Day brunch recipes
An amazing recipe for maple glazed bacon
8 decadent Nutella breakfast recipes
Healthy breakfast recipes kids can make by themselves
6 stellar make-ahead breakfast recipes (so you can relax the next morning)
Build the best breakfast sandwich
Valentine's Day breakfast recipes that are ideal for Mother's Day too
6 bacon-tastic recipes for breakfast and beyond
A fantastic homemade granola recipe from Haven's Kitchen
Perfect mimosa recipes to toast to a special day
Breakfast tacos to spice up Mother's Day
How to make your own cold brewed coffee in 5 easy steps
5 easy, beautiful last-minute cake recipes for Mother's Day
2. Last-minute Mother's Day gift ideas: A Boxed Breakfast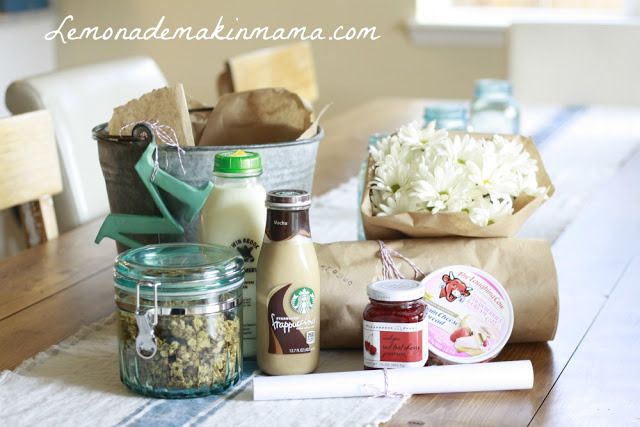 If your mom lives out of town or your Mother's Day activity is a little later in the day, we love that you can still wrap up a morning meal with this breakfast-themed gift basket of treats from Lemonade Makin' Mama (above). Include Mom's favorites — all the lovely little things that make her mornings special — in an adorable package. (You can find DIY instructions and pro tips over at the site.)
3. Last-minute Mother's Day gift ideas: A Kid-Made Ring Holder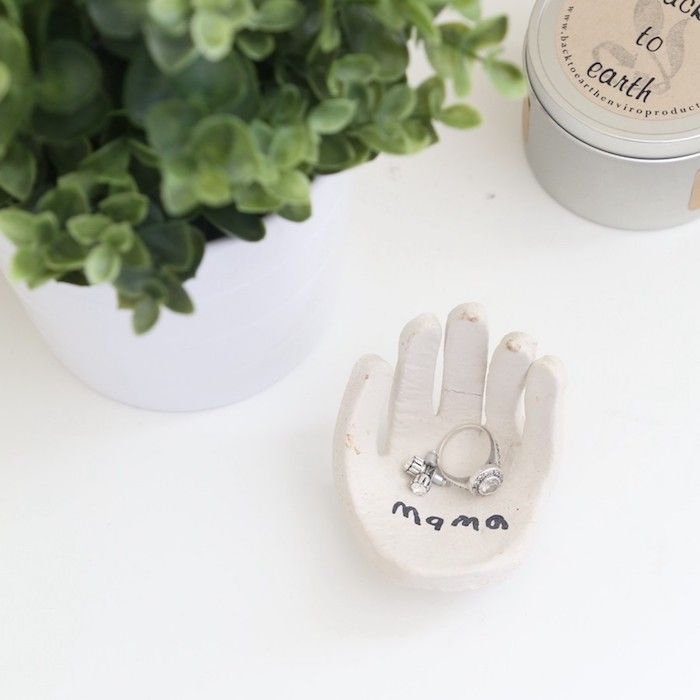 This DIY clay ring dish by Mama Papa Bubba (above) is so utterly sweet and adorable, we knew it had to be in our list of 12 truly cool handmade Mother's Day gifts. Your child's handprint preserved in clay…is there anything more heart-melting?
Even the littlest kids can make Mom something she'll always cherish. We featured 18 cool handmade Mother's Day gift ideas from the kids last year, and we still can't get over those awesome DIY dishes and felt flowers. But even a special card can become a forever keepsake with one of these 10 adorable handmade cards for Mother's Day.
Related:  75+ of the best Mother's Day brunch recipes you can prep the day before, cook at the last minute, or make with the kids
4. Last-minute Mother's Day gift ideas: Printable Mother's Day Coupons
Mother's Day coupons always make us happy, and even better when the vouchers are for things that we really, really want. Fortunately they make great last-minute Mother's Day gifts too!
These funny Mother's Day vouchers by The Curve (also shown at very top) are included in our suggestions for fabulous, free Mother's Day printables for that very reason — a day off from "mumming" sounds divine.
Or, proving just how time-honored Mother's Day coupons truly are, you can also find a gorgeous printable book of coupons by Skip to My Lou in our 2015 edition of last-minute Mother's Day gifts she'll love.
5. Last-minute Mother's Day gift ideas: A Funny Card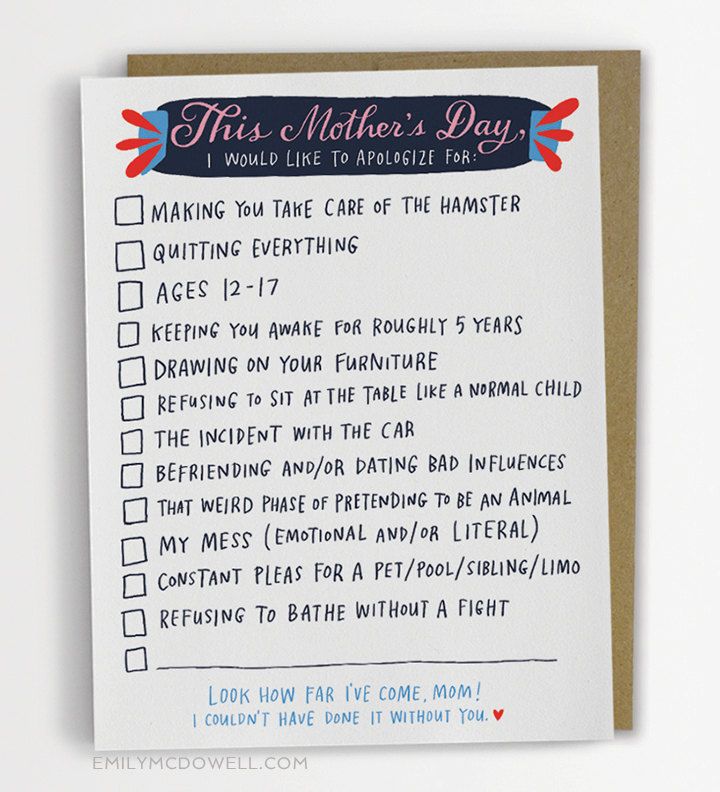 There is nothing quite like a hilarious-because-it's-true card to make Mom forgive and/or forget. Ha. In our roundup of funny Mother's Day cards, we thought this checklist Mother's Day card by Emily McDowell Studio was particularly spot-on (sorry, Mom!), but honestly we know moms will get a good laugh from any one of them.
6. Last-minute Mother's Day gift ideas: A Handmade Card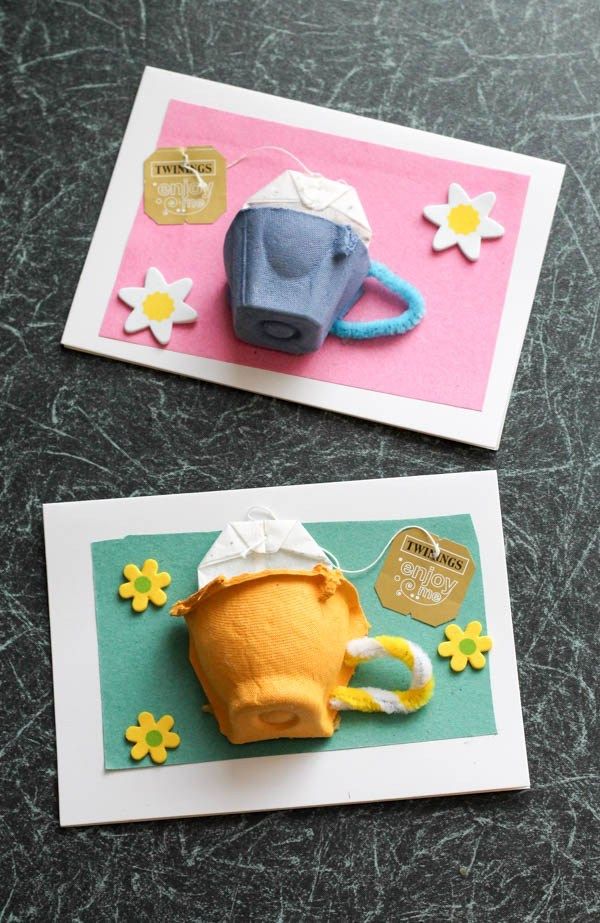 This teacup Mother's Day card by In the Playroom is a special DIY gift for any tea-sipping mom (whether it's at playtime or in real life) — especially because it's made by kids. Find instructions on how to make it and 11 other kid-made cards in our huge list of truly cool handmade Mother's Day card ideas.
7. Last-minute Mother's Day gift ideas: The Mother of All Cards

We all know how important cards are, no matter what form they may come in. Whether they're store-bought cards or handmade ones from the kids, it doesn't matter.
Last year, in our roundup of last-minute Mother's Day gift ideas, we featured this DIY giant Mother's Day card from The Merry Thought and we just have to include it here again.Hey, it must have done its job if we're still thinking about it!
8. Last-minute Mother's Day gift ideas: Chocolate. Lots and Lots of Chocolate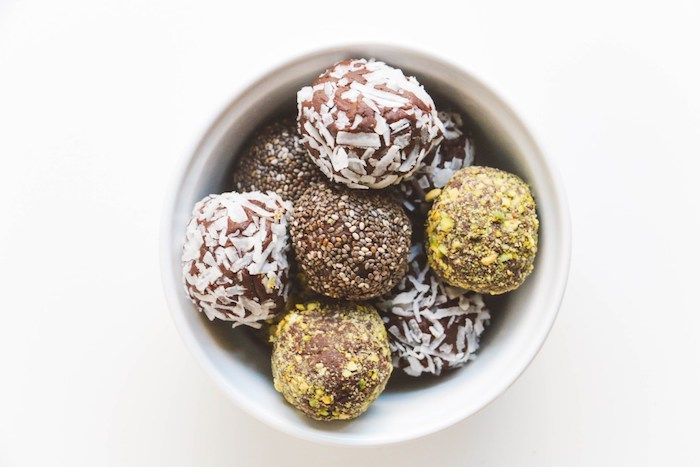 One delicious way to Mom's heart with a last-minute Mother's Day gift is through her stomach. We love to support our favorite local businesses as much as possible, and it's easy to visit a favorite local chocolate shop in your town
In Florida, check out Norman Love Confections for a beautiful box of Mother's Day chocolates. In New York, buy bonbons at Stick with Me Sweets. And we know there are amazing choices where you are too.
You can also DIY with the incredible Raw Cacao Truffles by Salt & Leisure (above), which Stacie featured in her roundup of yummy food gifts for Mother's Day, or a pan of color blocked chocolate bark with edible sprinkles, which you really must see to believe!
It's not too late to order food gifts to be shipped to you, either — lots of companies can get you the goods on time but at a premium, including Shari's Berries, Harry & David, and William-Sonoma.
Two words: mini cupcakes.
If your Mother's Day shopping adventures take you to the mall, Godiva has the mother (heh) of all chocolate gift baskets that will make a huge impression on sweets-loving moms, mothers-in-law, grandmothers, and stepmoms alike.
Related: 10 adorable handmade Mother's Day cards from the kids that will totally melt Mom's heart
9. Last-minute Mother's Day gift ideas: Comic Relief for New Moms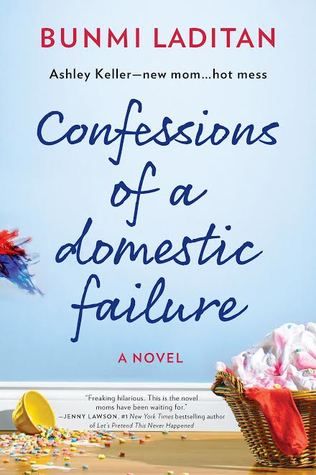 New motherhood is filled with all sorts of questions — like, How will I ever be Pinterest-perfect mom when I'm so tired I can't remember how showering works? and What do I do to entertain myself during wee-hour nursing sessions? Confessions of a Domestic Failure is a thoughtful, relatable gift that answers both of those questions and so many more. We included it as one of our favorite gifts for new moms this year.
Books make amazing last-minute Mother's Day gifts overall, whether they're cheeky cookbooks (Bake Sales Are My B*tch, y'all), feminist parenting advice (Dear Ijeawele, or A Feminist Manifesto in Fifteen Suggestions is one of our faves), a good sink-your-teeth-in-it mystery, or any other kind of genre Mom might be into. You can't exactly gift wrap "me time," but books come pretty close.
10. Last-minute Mother's Day gift ideas: An Important Print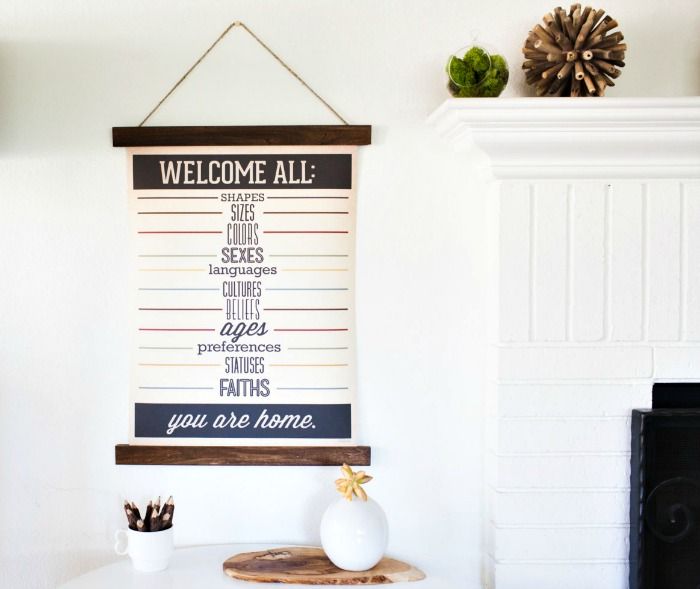 For the moms in your life who are unstoppable forces of speaking up for equality, we found a ton of truly fantastic feminist Mother's Day gifts that will mean a lot to her (and, as a result, a lot to those she's supporting). We love this Welcome All Print by Kindred Sol Collective, which says it all when it comes to the idea of "home."
11. Last-minute Mother's Day gift ideas: A Special Piece of Jewelry

There's still time (but, hurry!) to order this beautiful Shadow Heart Necklace from from Uncommon Goods although, check shipping rates since you'll likely be paying a premium.
We love that it's specially designed to cast the shadow of a heart when it catches the light, so that Mom knows your love is always with her. (Sniffle!)
Also check Amazon if you're a Prime member, or just visit a local mall or jewelry shop in your community to find something that calls her name.
12. Last-minute Mother's Day gift ideas: Jewelry That Gives Back
We've always thought Guilded Grey's vintage-inspired jewelry made an especially lovely Mother's Day gift to give — or receive (ahem). Disclaimer: They're a sponsor this year but we've loved them for a long time. Even more so now, because with every pair of Swarovski Crystal Drop Earrings you buy, $10 will be donated to the GOOD+ Foundation, one of our favorite organizations that supports families and babies in big ways.
(Psst… they're also on sale now, but hurry, you'll have to order today if you want them in time for Mother's Day!)
Related: Feminist Mother's Day gifts for the mom who's woke
13. Last-minute Mother's Day gift ideas: A Bouquet of Flowers…or Fruit!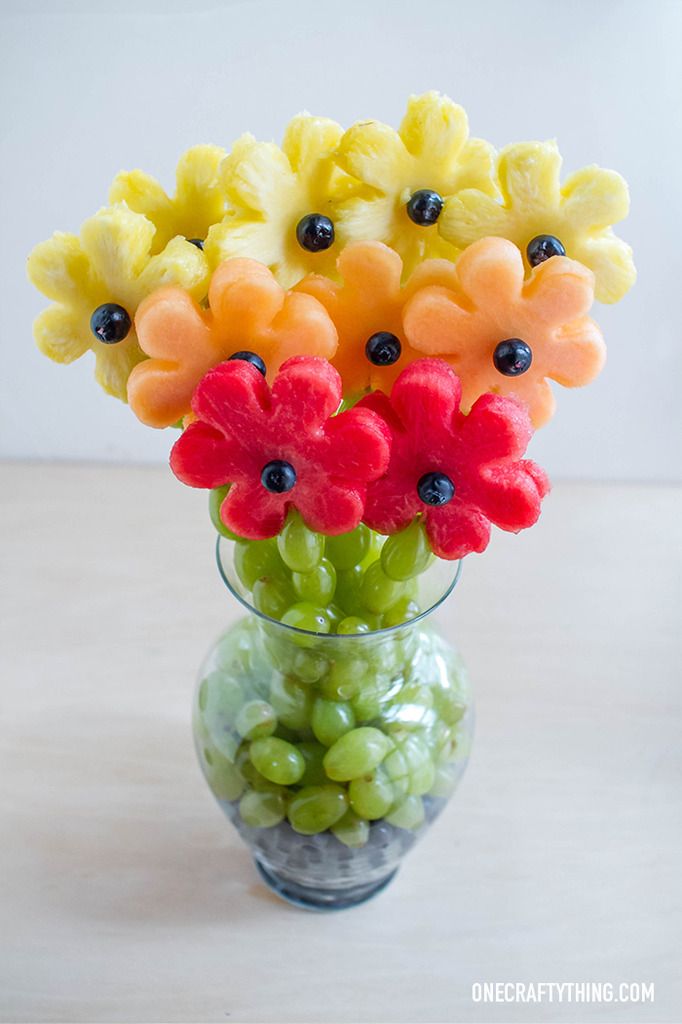 We'll never turn down bouquets of flowers and if you need a great last minute Mother's Day gifts, call a local florist in the zip code you want the delivery. One fabulous new service we love is Urban Stems which takes Mother's Day delivery right up until 5 PM on Sunday!
One thing: It's only for the NYC area, Philly, DC, Baltimore and Austin right now. (Sad face for me in New Mexico.)
Hopefully they'll expand because Liz used them earlier this year and was really pleased with what they sent.
If you're looking for a twist on the traditional bouquet, check out theis this sweet DIY fruit bouquet tutorial from One Crafty Thing, shown here. Stacie featured it in her roundup of scrumptious Mother's Day food gifts that you can make. I'd say it's almost too pretty to eat.
14. Last-minute Mother's Day gift ideas: A Mug That Says It All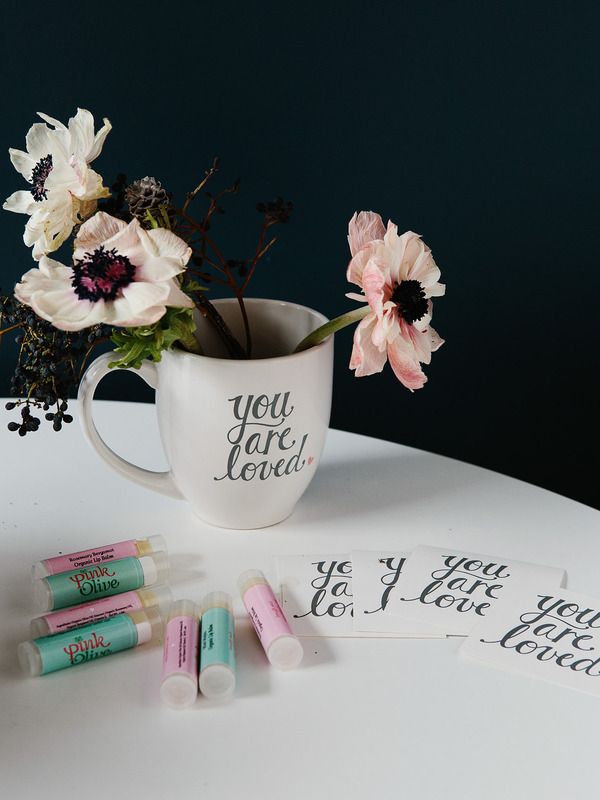 We featured an entire guide to Mother's Day gift ideas made by indie and women-run businesses, and this You Are Loved Mug by Grace Kang from Pink Olive fits right in. You'll have to order this with rush shipping (unless you're lucky enough to live near one of her NYC shops), but it's worth it — what a lovely way to remind Mom every morning of how much she means to you, especially if you add her favorite coffee or tea.
You could also head to your local Michael's and grab some Sharpie's meant for ceramic, a solid colored mug, and make your own — pssst, great last minute Mother's Day gift from kids too.
Related: 20 kids shared what they really want to get their moms and their answers are awesome!
15. Last-minute Mother's Day gift ideas: A Fab Gift Box Subscription
We are unapologetic fans of gift subscriptions and they make perfect last-minute Mother's Day gifts too. The gift itself may not arrive in time for Mother's Day, but the promise of one to come is just as exciting.
Check our post featuring  the coolest subscription gift boxes, including the  POPSUGAR Limited Edition monthly gift box shown here. It's a true treasure trove of full-sized beauty products, stylish accessories and more.
Related: 16 awesome first Mother's Day gifts for new moms to make her first one special
16. Last-minute Mother's Day gift ideas: IRL Instagram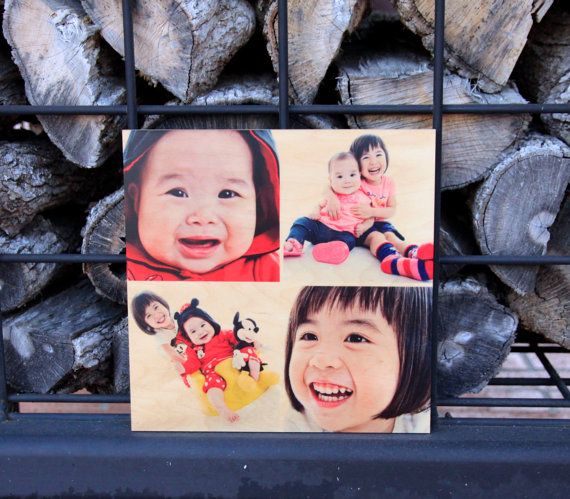 We've got a whole slew of other fantastic Mother's Day gift ideas for the Instagram-loving mom on Cool Mom Tech, including these custom wood Instagram prints by Time Capsule Studio. They give Mom's favorite photos on her feeds extra texture — not to mention permanence since you can't accidentally delete these beauties.
According to the site, these custom prints ship out in just one day, but order right away to be on the safe side.
17. Last-minute Mother's Day gift ideas: Tech That's Just Her Style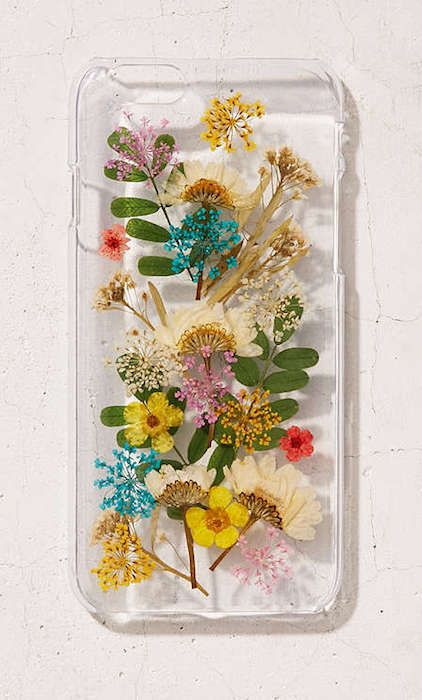 Over on Cool Mom Tech, we rounded up some amazing gifts for the mobile mom — which is all of these days. Think about what she needs for phone, tablet or laptop and you can pop into your local tech store or Target and find something perfect.
We also featured the prettiest floral phone cases so that she can keep her Mother's Day bouquet with her all year long. There's still time to order this pressed flowers case for the iPhone 7 from Urban Outfitters, but you can also pick it up in store if there's one near you.
18. Last-minute Mother's Day gift ideas: A DIY Spa Day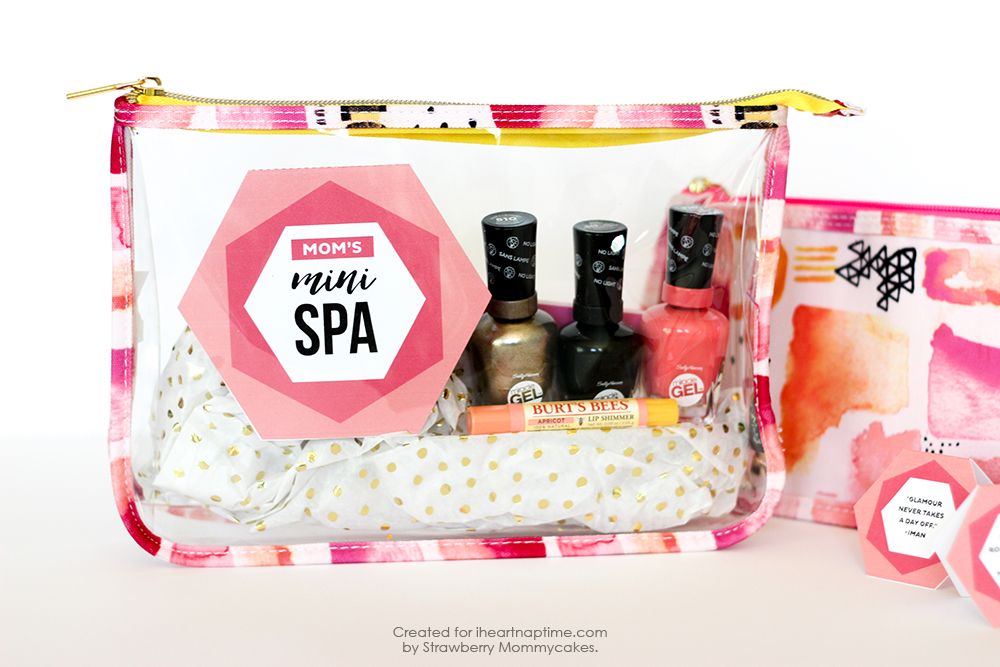 Gift cards for mani-pedis and massages at a local spa are always appreciated, but we also love a good DIY. You can mix and match products from the shelves of your drugstore. Even chain stores are stocking more brands that feel higher end, and with more natural ingredients.
For some help check our favorite drugstore beauty products that are better than the spendy stuff, all of which can make great last minute Mother's Day gifts!
I'm a big fan of I Heart Naptime's free printable mini spa tags (above) which you can use to prettily package them.
And be sure to check out the tons of other free Mother's Day printables you can use to make your gifts extra spiffy.
Now, if you want to get super-DIY, you can find a great tutorial for homemade coconut rose body scrub in our guide to handmade Mother's Day gift ideas. Or, you can really go over-the-top spendy with one of our favorite expensive beauty product splurges that are worth it — because, Mom is too, right?
19. Last-minute Mother's Day gift ideas: Her Favorite Magazines. All of Them.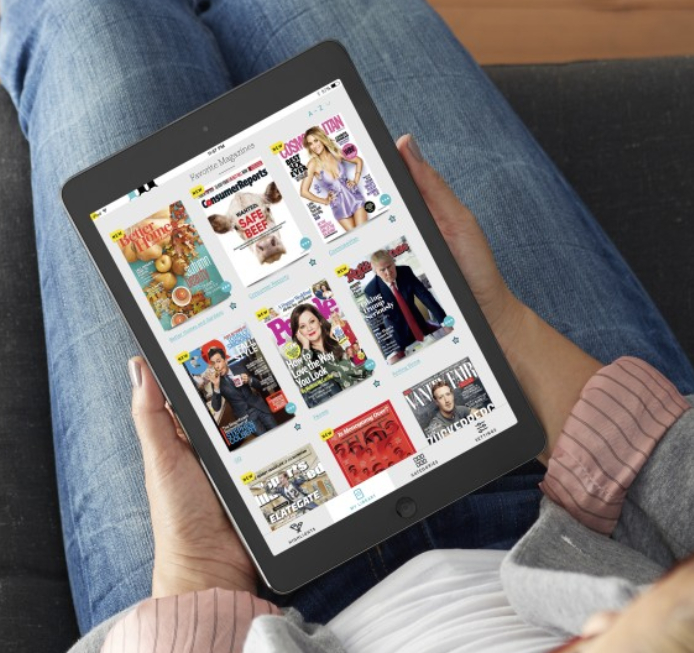 We included a monthly subscription to the Texture app in our roundup of Mother's Day gifts for less than $20 because this thing is amazing. She'll have hundreds of magazines, right at her fingertips, that she can read whenever she has the time. (Pro tip: Give her the gift of time too.)
Related: 10 cool Mother's Day gift ideas for the mobile mom.
20. Last-minute Mother's Day gift ideas: A Hanging Garden
Here's another alternative to flowers that's a perfect last minute Mother's Day gift: A handmade hanging succulent air garden, like this one by Shop Succulents. It's so pretty, and truly perfect for any room in the house. We happened to include it in our list of great gifts for stepmothers on Mother's Day but we think any mom would love it.
21. Last-minute Mother's Day gift ideas: A Memory Journal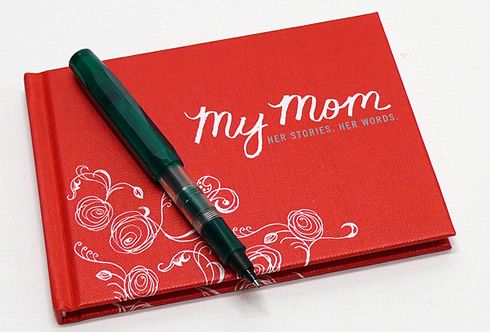 We're ardent believers in the importance of creating a memory journal for our moms and grandmas. That way, the stories of our families will live on (and in their own words). There are journal apps that you can download instantly for Mom as a last-minute gift, but we especially like My Mom: Her Story, Her Words, which has all the prompts ready for you too.
Or, you can DIY a memory journal with a blank book from a local paperie. Write out 20 questions for your mother at the top of each spread, and make a date with her to sit down and fill out the answers together.
22. Last-minute Mother's Day gift ideas: A Subscription to Keep Her Safe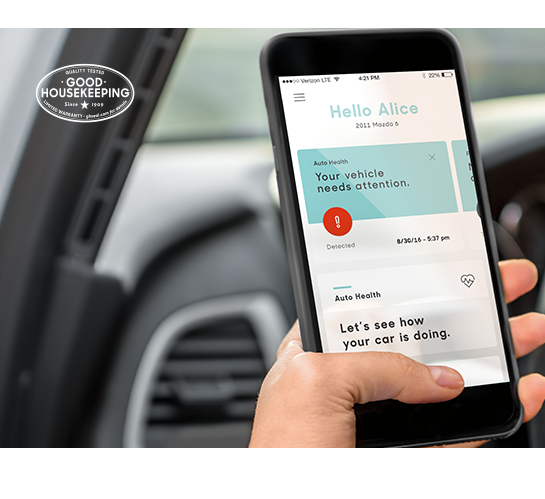 Also in our guide to Mother's Day tech gifts for mobile moms, we recommended a gift subscription to Hum+ by Verizon, which could be a total lifesaver – in more ways than one. If you've got a practical mom, this may be the way to surprise her with something she wouldn't buy herself. Plus, you can get it stat!
23. Last-minute Mother's Day gift ideas: Experience Gifts
For the mom who doesn't need more stuff, there's something to be said for a last minute Mother's Day gift that requires no wrapping.
Consider  something that she's been wanting to do — like having her hair cut and colored at the new salon in the neighborhood or trying out that whole microblading thing everyone's been talking about — and actually make the appointment for her.
Or, if she just needs a break from things she's tired of doing (like cleaning!), there's a gift card for that. In our Mother's Day gift ideas for new moms we suggested a gift card to Merry Maids. Which frankly, I'd take too even though I'm not a new mom.
24. Last-minute Mother's Day gift ideas: A Donation to A Cause She Really Cares About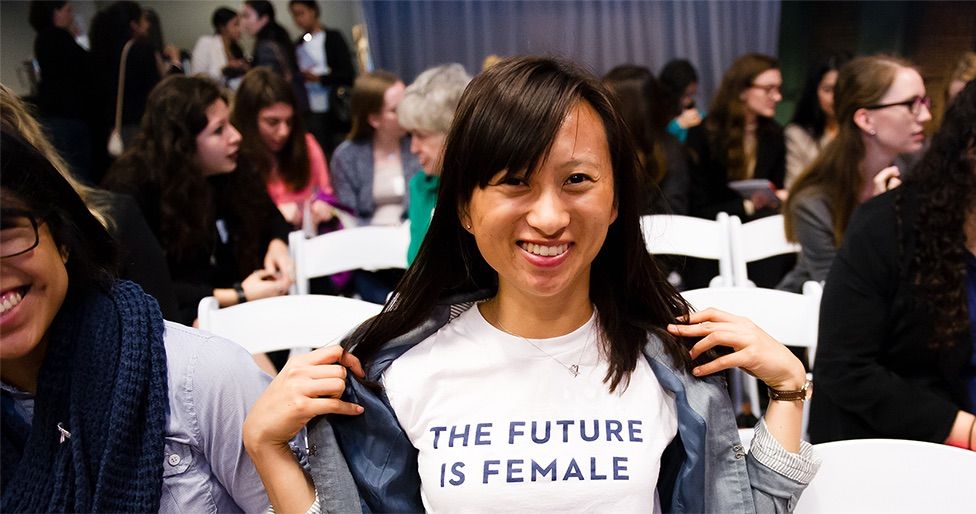 Sometimes, the best Mother's Day gifts are the ones that show you care about what she cares about. Consider contributing to a non-profit like Ignite, which we recently discovered (above) as a fantastic way to invest in women destined to be future leaders. Make  a donation in her name from one of these orgs in our  guide to empowering gifts for progressive moms. Or hey, just pick another cause or organization that's near and dear to her, which is always a gift straight from your heart straight to hers.