We are still celebrating the return to summer camp around here. And I am celebrating the joy of putting together summer camp care packages for my tweens and teens! The chance to run around with friends, swim, be silly, stay up too late, fill up their MadLibs with "edgy" adjectives (ha), read with flashlights in the dark, roast marshmallows and just be kids for a few weeks without phones and gadgets…well, it will be glorious for them.
For kids who love camp, and are able to return safely — maybe for the first time since 2019 —  it's a really valuable step toward normalcy. And for parents like me, the chance to send care package gifts is my way of saying I still miss you beyond belief! 
Hopefully your camp has reinstated visiting weekends this year, something I really missed in 2021. If so, you can bring some of these camp care package ideas with you. If not…all the more reasons to make sure those care packages will be a little extra this year.
This post contains affiliate links and some purchases may generate a small commission that helps support our own small business at no additional cost to you. So, thank you! 
Top image: Melissa Askew on Unsplash
– This post has been updated  for 2023 –
The best summer care package ideas for tweens and teens we'll be missing this summer
Note that I'm including items here you can buy online from sites like Etsy, Amazon and Target, in part because you can have them shipped directly to your kids, which is pretty convenient. That said, I'm always a fan of supporting my local neighborhood shops.
Boutiques, clothing stores, hardware stores, drugstores and chemists craft stores — they all are packed with fun care package ideas (no pun intended) and you can wrap them up yourself with a more personal touch before sending them off.
Remember, personalized clothing labels on EVERYTHING can't hurt. Send more. Really.
Fun Camp Stationery and Stamps
Yes, this is the one care package idea that benefits me possibly more than my own kids. That's why I listed it first. Ha.
I love this personalized camp stationery by independent designer August & Oak from Minted, but plenty to choose from there to suit your own tween or teen's style and interests.
Minted can ship it right to your camper, or, if you're sending stationery themselves, be sure to include some pre-addressed envelopes along with stamps. It really helps. (Why do kids hate addressing envelopes so much?)
One more tip for parents with reluctant writers: When my youngest first went to summer camp, a single-sided card like this cute hedgehog stationery was perfect — the limited space made "filling the lines" feel less daunting to her. Did I get tons of cards in the mail? No. But I've still saved the ones I did get.
Fun Craft Supplies for the BunkBottom image:Nasim Keshmiri via Unsplash
We've always shared our favorite DIY gifts and craft kits for kids — and those also come in handy for camp care package ideas for your teens and even younger kids.
Friendship bracelet embroidery floss packs are super affordable and make a big impression — you can get enough for the entire bunk in the $5-8 range on Amazon or your local craft store. Print some friendship bracelet patterns to send in the camp care package and they'll love it.(PS The boys in my teens' classes love them too, so don't assume it's just for girls.)
Larger beaded bracelet kits are also huge right now — grab one that includes little letter blocks so kids can make some with their friends' names or nicknames (or superhero alter egos?) to make them more special.
If you want to step it up, Klutz makes this excellent all-in-one Friendship Bracelet Kit that my own kids love. They flew off the Amazon shelves on Prime Day last year so get one while you can!
If your kids prefer lanyards (or gimp or scoubidou, depending where you live), grab a lanyard kit that includes the hooks maybe include some printed lanyard pattern instructions.
A New Writing Journal for Camp
This Thoughts and Stuff journal by Seattle's Noonday Design on Minted is so fun — and while it comes in different colors, I like the black and white version you can completely color in yourself. There are lots of journals designs for kids, whatever they're into.
Another camp care package idea for tweens and teens is to send one of the personalized photo journals from Minted with a picture of the family pet. Aw. (Hey, maybe if your kid doesn't write home to you, they'll write home to the dog.)
Of course any spiral notebook or journal will do, like one from a drugstore or local office supply place — and you can always make it special by covering it with stickers. Which brings me to…
An Instant Camera…or your old point-and-shoot
When camps say no to phones, you can send your kid to camp with an old point-and-shoot you may have around, a disposable camera, or my kids' favorite: The Fujifilm Instax Mini instant camera, which comes in so many amazing colors now. Also a great camera for camps that don't allow electronics, plus the prices have dropped wildly since they were first released. A Fujifilm Instax bundle includes everything they'll need, including a carrying case. And don't forget to send extra Instax Film, which gets more affordable in bulk.
(Ha, Amazon is telling me "You have purchased this item 5 times" so clearly my kids are fans of the film with the fun borders.)
Another nice bonus: An affordable photo album for Instax Mini photos — should your kid want to preserve them in another way besides taping them all over their bunk bed.
Alternately, if you want an extra-cool camp care package gift, you can send an old point-and shoot if your camp allows it. I tried to get mine charged and ready but alas, ten years later it's not doing well. So I priced some new cameras and this Kodak PixPro point and shoot gets great ratings and is hugely on sale right now in the $120 range — or check out the Kodak PIXPRO digital camera starting under $100.
I would only suggest you get a camera from a brand you know if you're shopping on Amazon — opt for Cannon, Fuji, Kodak, Olympus, Sony over GRAMMOOPIX or whatever.
And be sure they have a memory card (SanDisk is always trustworthy) that holds enough snaps for the summer — kids are used to nearly unlimited storage, having grown up with smartphone cameras.
Camp Games for the Whole Bunk
It's hard to even know where to start with games to send in camp care packages, because games the whole bunk can play is always a favorite care package gift with my kids. My now 16-year-old is so obsessed with Werewolf, that every year on arrival day, her counselors help her unpack and cheer when they get to the box of cards! (Kind of hilarious.)
Not Parent Approved also remains a big hit, as does Apples to Appples. Superfight is really fun too, and one of our top birthday gifts for tween boys and girls.
Our older teens who like more…irreverent games love What Do You Meme. My 16 year old is a big fan of Over-Rated…and would be mortified if I sent her a deck. But she'd be thrilled too. Just know it's up there with Cards Against Humanity in terms of content so be sure your summer camp is okay with that.
Table Topics also makes some teen-appropriate conversation starter card decks, though the to-go decks are a lot more affordable.  And hey, there's always Mad Libs! Especially for your tweens and younger teens.
Check out these posts for even more ideas for games that make great summer camp care package gifts:
– The best group card games to play with the whole family
– 5 fun card games for kids that our family is loving right now.
– The best family board games for summer travel
–  4 fun games that my older and younger kids like playing together.
A Fun New T-Shirt for Camp
Kids get sick of the same clothes, especially if they're away for 4 or more weeks. Sending a new shirt that reflects their interests — sports, movies, theater, or even a favorite show they're missing can be a great way to make new friends. ("Hey, you like Daria too?).
Retro band shirts are so popular now, nearly every big clothing chain sells them pretty affordably, from Hot Topic to Target to Aeropostale where everything is on sale — the Run DMC tee above is sold out right now, but find lots more graphic rock and pop culture tees for camp care packages from Nirvana to uh…Justin Bieber? That's vintage now?
Stickers! Or…Temporary Tattoos! Or…Both!
Shades from my own misspent youth, kids today are going crazy for stickers — to decorate water bottles, notebooks, letters home to friends, laptops, basically anything. Pick something your kids love, from anime to Stranger Things, animals, to Minecraft, even Marvel Avengers stickers (above) for just $7.99!  I guarantee you can find a big pack of them affordably on Amazon. Or, check local stationery stores or even drugstores.
We're also long time fans of Tattly tattoos, and they have so many kid designs now it's amazing, but teens might prefer the natural curiosity pack of temporary tattoos, which seem to be the perfect theme for a camp. This is one case where I might spend a little more — the huge packs of tattoos on Amazon may be cheap, but the quality is eh. My kids love these.
Art Supplies and Gifts to Get Them Doodling
When it's quiet time in the bunk, sometimes the kids would rather draw, sketch, or doodle. I love sending ideas like:
–colorful gel pens (this giant set is under $10!)
–colored pencils (this set of 24 from one of my favorite brands is just $6.23 right now on sale!)
–water colors brush pens
–sketch pads
–paint by number sets
–cool mandala artist set above. (I looove this!)
–pop manga coloring book for older kids
–personalized pencils for kids are also a creative camp care package gift idea, and they're cheaper than you might think.
Alternately, we've always been fans of Boogie Board reusable writing tablets, and for younger tweens and kids, their tiny new Sketch Pals mini tablets are so fun for playing tic tac toe or boxes with bunk mates. It's a care package idea that's screen-like…but not actually electronic.
Tape
Why is tape such a hot commodity at summer camp? I have no idea but every year my kids beg for rolls of tape. Send some and your kid may be the most popular kid in the bunk.
New Socks for Camp. Fun Ones.
Fun socks are always a fun, affordable camp care package idea, because my kids always manage to lose half their socks over the summer for some reason. Isn't it great that socks are no longer considered lame? It's so easy to find fun socks for kids these days.
Books for Camp. (No better time than rest time for reading.)
Even kids who are reluctant readers all year get more motivated when all their bunkmates are buried between the pages during rest hour after lunch.
Pro Tip: Have your kid make up an Amazon wishlist for books they want before camp begins, to help you out.
My 14-year-old packed up YA books last year including Cool for Summer by Dahlia Adler, One of Us is Lying by Karen McManus, and They Both Die at the End by Adam Silvera. (She said it would be good to read a sad book when surrounded by friends.)
Or get inspired with these terrific posts filled with book recommendations:
– The best children[s books of 2021 to read in 2022
– The best children's books of 2020: All the award winners your kids should read in 2021
– 10 books for kids that became new movies and TV series
– 7 terrific new YA books with LGBTQ+ main characters
– 13 great fantasy and adventure books for tweens
– 5 important dystopian novels for tweens and teens to inspire positive action
– 16 creepy YA novels for kids who dig dark themes.
A Set of BFF Necklaces
If you're missing your kid and you think (hope) they are missing you too, there's something really sweet about sending a pair of affordable matching BFF necklaces or bracelets, so they know you'll be connected together again soon. I think this BFF avocado necklace set  at PuraVida is sweet (though may be sold out right now). Maybe send it along with a snapshot of you wearing yours.
And hey, maybe it reminds them to eat their vegetables. Or uh, fruits, technically.
Related:  the cutest best friend jewelry that goes beyond the split heart necklace. 
Some Health and Hygiene Help. (Can't help it, I'm a mom.)
Kids who are away for a few weeks will (hopefully) use up their bug spray to keep the mosquitoes away, so send along some extras. This year, evidently ticks are back with a vengeance (eek), so be sure to read our guide to the best, safe tick repellents for kids right now, like the top-rated mosquito and tick-repelling spray from Sawyer, above.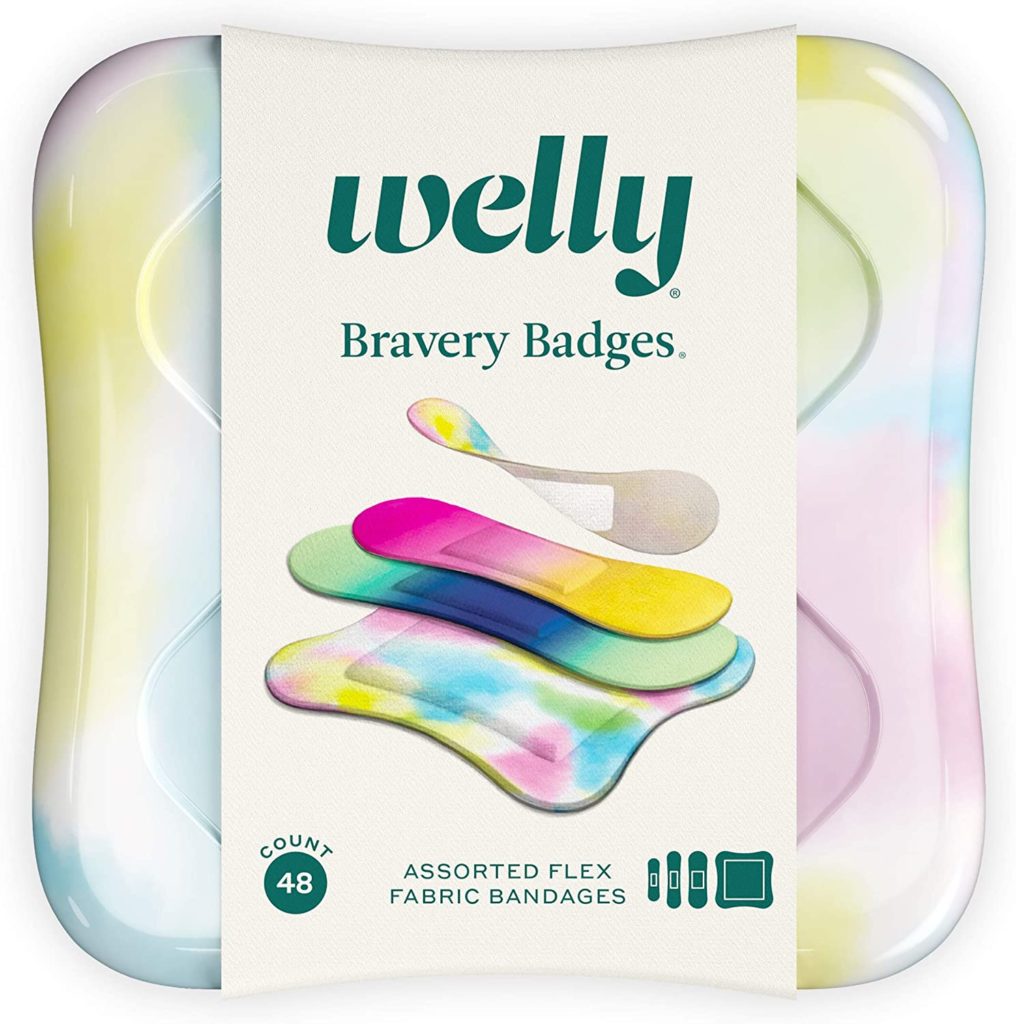 You could also send some Res-Q Ointment for any bites, burns, or scrapes they may get; Theraderm Cool Skin (a recent sponsor) for sunburns that they hopefully won't get; along with Welly's fun tie-dyed bandages— so affordable and perfect for summer camp care packages! But know that some camps are strict about sending even the most basic first-aid items, so check policies first.
Fun Snacks…If Allowed
Image + Tutorial: Club Crafted
I have one kid in a camp that's a big N-O on food in care packages…then the other three are in a camp that's like, BRING IT ON PARENTS! If you're in the latter camp, we put together a great post on 5 creative ways to send camp food gifts including these individual mini s'mores kits using a free printable s'mores kit label from Club Crafted. Kids may or may not be able to roast them over a fire, but  they're a classic camp snack either way. Be sure to send enough for the whole bunk!
You can also find so many ready-to-ship s'mores kits online now that I may just have to do an entire post on Cool Mom Eats about the best ones.
Other ideas include Twizzlers, Smarties, Lifesavers, Skittles, Pringles in every flavor (why are kids so obsessed with Pringles?) — the best bets don't melt, so skip chocolate except for s'mores supplies. And try to avoid things like lollipops with individual wrappers so kids can go easy on the waste.
Also no gum. Camps will confiscate it immediately.
New Face Masks, Whoo-Hoo!
If like my kids, your camp is keeping disposable KN95 masks for kids on the packing list this year  — just in case — your kiddo might be more inclined to wear them if they're kind of fun and funky. If they have more grownup-sized faces, try these colorful KN95 masks If you prefer a CDC (NIOSH) approved N95 mask like the ones from 3M, you can also find them readily now.
Pictures From Home
Whether you're sending pics of siblings, the grandparents, or a bunch of their besties, my kids are always grateful to get photos. It's the simplest of care package gifts for camp, costs basically nothing (you can even just print a bunch out collage style on regular paper), and it helps reminds your kids how many people out there love them and wish them the best summer ever.
Also, a subtle reminder of all the people they get to see in September is pretty decent incentive to get them home again. If your teens are anything like mine, they basically never want to leave.
Does your camper have a favorite care package gift? I'd love to hear about it!