We truly love Halloween, which is one of the reasons we start looking for the coolest costumes, spookiest decorations, and most delicious recipes around, oh…July. But we're all busy parents! So if, like us, you still need some last minute Halloween help for costumes, treats, printables and crafts, pumpkin carving — you name it! — we have tons of inspiration for you.
Just remember whatever you do (or don't do), it's all good. The kids will be too busy sorting their treat bags into "eat now" and "hide from Mom" to think about just how homemade your door decorations are.
Top: Pretzel Ghosts recipe | Culinary Envy
-This post has been updated for 2017-
Last-Minute Halloween Treats, Drinks, and Tasty Recipes 

Witch's Heart Cocktail | The Flavor Blender
The ultimate guide to 171 amazing Halloween recipes including copycat candy bar recipes, Halloween cake ideas, candy corn recipes, semi-homemade Halloween snacks, and more.
Did we say "ultimate"? Because there's more: These 90 fantastic last-minute Halloween recipes take "ultimate" to the next level.
Halloween treats so easy, even the busiest parents won't get scared
An easy guide to a safe, allergy-free Halloween including allergy-free Halloween recipes
New allergy-free candy ideas to add to the treat bags
5 really important safe Halloween tips from a mom of kids with allergies
Go-to allergy-friendly Halloween candy for kids with most common food allergies
8 easy Halloween school lunch ideas that you can actually do. Not kidding!  And even more healthy-ish Halloween lunch box recipes. And wait! here's 6 more spooktacular Halloween lunchbox recipes for the kids
How to turn one batch of Rice Krispies treats into the easiest Halloween snacks
7 fun Halloween cocktail recipes for grownups plus 8 spooky Halloween cocktails because we could always use more cocktails, right?
5 skinny Halloween cocktails (so we can eat more candy)
Halloween candy and booze pairings – this is genius!
6 creepy Halloween mocktails for kids and designated drivers
All the Halloween Starbucks drinks you can order this year
Ghost Doughnuts | Crayons and Cravings 
13 deliciously spooky Halloween dinner recipes that make you the fun parent
All the limited edition flavors of Halloween candy for 2017
Natural Halloween candy alternatives to the big-brand stuff
Easy Halloween party recipes the kids can help with
Candy Corn Rice Nigiri | Love at First Bento
Delightfully creepy Halloween cupcake recipes
Non-candy Halloween snacks and recipes that still keep Halloween delicious
How to roast pumpkin seeds, plus 4 irresistible recipes And then..here are 6 more delicious pumpkin seed recipes
Halloween party snacks you can whip up with no effort
11 easy, semi-homemade Halloween snacks that lets you be the cool mom without much work 
5 super cool Halloween treats that you can make with store-bought shortcuts
Free Printable Monster Pencil Toppers | Handmade Charlotte
Ideas for classroom Halloween treats that aren't candy
And we love fantastic non-candy DIY or buy ideas for parties or kids with allergies
Last-Minute Halloween Crafts, Printables and Activities
Oogie Boogie Man Halloween Door DIY | Practically Functional
Creepy, easy door decorating ideas for Halloween
12 spectacular sugar skull crafts with Dia de Los Muertos in mind
Free printable Halloween paper dolls, from sweet to steampunk to Star Wars.
A great resource for Halloween printables and party games
Easy and fun Halloween paper crafts for kids
21 fun and totally free Halloween printables
9 free Halloween coloring pages that are actually pretty cool, from pumpkin mandalas to sugar skulls.
15 Halloween printables that keep kids of all ages happy — and busy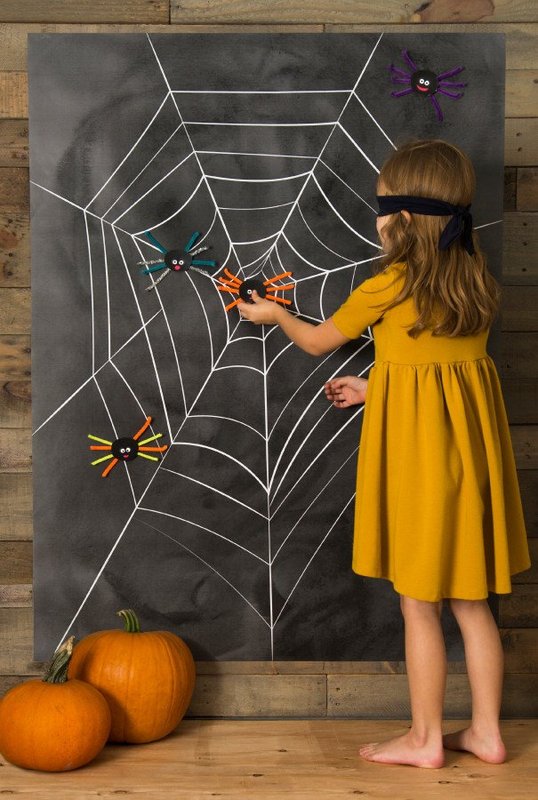 Printable Halloween Activity Pack | Caravan Shoppe
9 fun, easy Halloween party games for kids
Easy DIY Halloween crafts for preschoolers
Halloween craft boxes that make great last minute gifts
Kawaii printable Halloween craft projects
15 non-scary Halloween crafts for little ones
DIY Glow-in-the-Dark Trick-or-Treat Bags | The Sweetest Occasion
9 super easy ways to make your own Halloween treat bags more fun
5 last-minute DIY Halloween treat bags you can whip up quickly
How to make a DIY light-up Halloween candy bucket
Some of our favorite creepy books kids will still love long after Halloween
PicMonkey for Halloween-ified photos on Cool Mom Tech
An easy tutorial to Halloween your photos using this free web tool
iPhones want costumes too — love these cases for the entire year!
7 cool Halloween apps our kids really love
14 of the best Halloween apps for kids of all ages
How to take awesome pictures on Halloween night

10 zombie themed Halloween decorations and ideas that aren't too gross
Last-Minute Halloween Pumpkin Decorating Inspiration
DIY Donut Pumpkins | Studio DIY
Brilliant tip: How to keep your jack-o-lantern from rotting this year
16 no-carve pumpkin ideas that are cool and quick
9 awesome teal pumpkin decorating ideas to identify your house as safe for trick-or-treaters with allergies.
10 outrageously creepy pumpkin carving ideas from the pros for inspiration
12 free geeky pop-culture pumpkin carving templates from emojis to Grumpy Cat
16 easy and very cool no-carve pumpkin ideas and 6 more no-carve pumpkin ideas that are totally impressive
Hamilton pumpkin carving templates. Work!
13 of the most outrageous Halloween pumpkin carving ideas we've seen probably ever
DIY Yarn Hair Unicorn Pumpkin | Lines Across
19 incredibly cool Star Wars pumpkin ideas
6 ways to decorate Halloween pumpkins with Sharpies
Not-so-scary monster party ideas, decor and treats for younger kids
Our favorite scary DIY Halloween decorations
20 free emoji Halloween pumpkin carving stencils
Last-Minute Halloween Costume Ideas
Baby Sia | @lauraiz
23 of the hottest pop-culture Halloween costumes for babies this year
Genius photo-real costume T-shirts from tattooed bikers to astronauts
14 empowering girl costumes that go way beyond Wonder Woman. Plus: 15 terrific strong girl Halloween costumes
13 cool last-minute costumes for moms because we like dressing up too!
17 cool DIY Star Wars costume ideas
Easy, no-sew Halloween costumes for toddlers and babies
9 really easy but also very creative last-minute Halloween costumes for kids
7 easy costumes you can make with onesies
Baby Jon Snow Costume | Winter is Coming
7 brilliant Game of Thrones-inspired kids' costume ideas
7 quick, easy face paint tutorials on YouTube
25 hilariously awesome DIY Halloween baby costumes
Halloween costume ideas you can make in 10 minutes or less
The ultimate resource for empowering Halloween costume ideas for women and girls
22 of the most awesome DIY Halloween costumes for kids
Easy DIY Eleven from Stranger Things Costume | Say Yes Blog
11 adorably geeky kids' costumes
6 awesomely easy baby costumes all from items they can wear again
12 easy costumes made with pajamas because they're warm and cozy.
Creative sibling Halloween costumes
11 really cool group Halloween costume ideas
3 great temporary hair color options
Baby carrier Halloween costume ideas for new moms and dads
5 zero-effort Halloween costumes for babies because something should be zero-effort when it comes to babies.
Halloween socks your kids will beg to wear all year
And when it's all over…
Gummy Bears Sangria | My Name is Yeh
10 clever ideas for what to do with leftover Halloween candy from recipes to educational crafts to donation sources.
7 tasty recipes for your Halloween candy
Fun toothbrushing apps for kids! You'll need them for November 1 for sure.